Feed your creativity with the Fujifilm X20 compact camera
Even though it has plenty of "auto everything" modes, the more you know about photography, the more you can get out of the Fujifilm X20.
Photographers use enthusiast compact cameras for a variety of reasons, and not just "they're photographers—any excuse to have another camera is a good one." Often they're attracted to the smaller form factors that are capable of producing high-quality output. These "all-in-one" cameras can serve as backups to DSLR counterparts, or as a way to lighten the load for vacation or business travel.
The Fujifilm X20 certainly meets those requirements. Its high-quality 28-112mm, f/2-2.8 zoom lens, coupled with the new X-Trans CMOS sensor, can capture high-quality raw and JPEG files, plus record full HD movies. Add to this a full complement of manual controls, a high-grade optical viewfinder, and manual focusing with focus peaking, and you have a camera that can handle most situations.
But there's more to the X20 than simply getting a good picture. Through my testing I've experienced how it can feed creativity as well. Options for a variety of film simulations, effects filters, multiple exposures, super macro, and even the ability to create soft backgrounds inspired me to use this camera in new ways. After a review of its basic specs, I'll show you a few examples of the X20's creative options.
Basic specifications
The X20 is built around a 12MP 2/3-inch X-Trans CMOS II sensor that is largish for a compact camera, but smaller than its mirrorless and DSLR counterparts. Pictures can be composed on the 3-inch, 460k dot LCD or via the advanced optical viewfinder with information overlay. It achieves fast autofocusing via its on-chip phase detection system, and provides focus peaking assistance when in manual focus mode. The zoom lens includes optical image stabilization and ranges from 28mm on the wide end with a maximum aperture of f/2, to 112mm for the telephoto at f/2.8.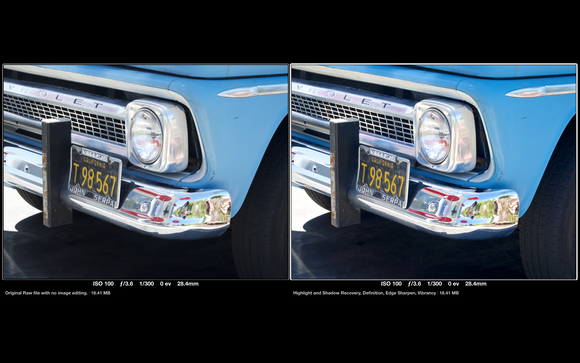 You can perform adjustments to your raw files in camera and save JPEG copies.
File formats include raw (.RAF), JPEG, and H.264 (for full HD video). Raw files can be decoded by the latest versions of iPhoto, Aperture, Lightroom, and Adobe Camera Raw. The X20 also includes in-camera raw conversion that allows you to apply over 10 different settings, such as sharpness, noise reduction, and film simulation, then save a copy of the file in JPEG format.
Film simulation
The X20 can present different interpretations of the same composition using its creative features. The camera uses film simulations and effects filters to create the variety of renderings.
If you've ever loaded a roll of Fuji film into a 35mm camera, you know how different an image appears captured on Velvia compared to Provia. The X20 allows you to "switch film" on the fly by choosing from a variety of simulated emulsions including:
Provia - standard color rendering for a variety of subjects
Velvia - saturated, vibrant reproduction typically used for color landscapes
Astia - soft color and contrast
Pro Neg Hi - designed for portraits with a bit of punch
Pro Neg Standard - for portraits with softer skin tones and gradations
B&W - standard monochrome rendering
B&W with Filters - choose between yellow, red, and green filters for monochrome
Sepia - toned monochrome