DxO One review: A better camera for your iPhone
Camera add-on brings DSLR quality to the iPhone.
As of this writing, the only software that can handle the DxO One's SuperRAW (.DXO) format files is DxO's own Optics Pro 10.5 ($129 essential edition; $199 elite edition). Optics Pro 10.5 is one of the best raw converters available, and, for a limited time, a license for DxO Optics Pro comes with every DxO One. I tested a beta build of an extension that provides support for SuperRAW files in Photos in El Capitan and it worked beautifully; check the DxO website for the Photos extension availability. In the meantime, if you stick to normal raw (.DNG), you'll be in great shape no matter what software you use to process your photos.

Captured by DxO One, processed in DxO Optics Pro 10.5. Credit: William Porter
The DxO One comes bundled with a special desktop app called DxO Connect. At first glance, DxO Connect looks like a straightforward photo importer, like OS X's Image Capture app. But Connect also has the ability to do powerful basic raw-to-JPEG conversions that benefit from DxO's sophisticated lens and exposure corrections. Serious digital darkroom types will want the full DxO Optics Pro application; but DxO Connect does a terrific job and it's drop-dead easy to use.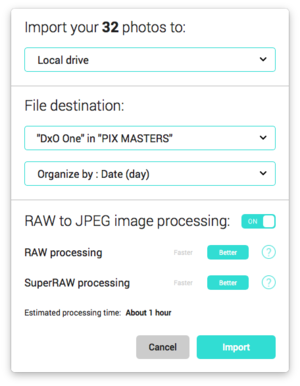 The DxO Connect app on your computer does more than import photos from your DxO One: It also performs default conversion on raw files, with smart lighting adjustment, noise reduction, and lens corrections.
Note that the DxO One does allow you to turn raw capture off and save JPEGs only. I recommend that you shoot raw, which lets you get the most from your images.
In recent years, I think reviewers, consumers, and camera-makers alike have over-emphasized the importance of high-ISO performance when judging cameras. I am as thrilled as the next person that the DxO One can shoot at ISO 51,200 but if you find yourself shooting at ISO 51,200 often, you're doing something wrong.
You want better photos, learn how to get more and better light. One way to do that is to add flash, and here the DxO One really outshines (pun intended) not just the iPhone but many other larger-sensor standalone cameras with pop-up flash. Because the One's lens is at one end of the contraption and the flash is six or seven inches away at the other end, the flash is well off the lens axis, like a hot-shoe flash used with a DSLR. That means that the DxO One actually produces flash results without the floodlight look you get using flash with the iPhone's camera.
Previous Page 1 2 3 4 5 6 7 Next Page