DxO One review: A better camera for your iPhone
Camera add-on brings DSLR quality to the iPhone.

Back of DxO One showing small status display and door providing access to micro SD card slot and the USB port where you connect the camera to your computer. Credit: William Porter
The DxO One's Lightning connection was questioned as a weak link by at least one respected early reviewer. I understand the concern, but after a month of daily use (including frequent shooting while the iPhone was mounted on a tripod and DxO One hung off the side), I found that the Lightning connection, while not goof-proof, is reasonably secure. I never dropped the DxO One. I did drop my iPhone 6 Plus while shooting, once, at the start of the testing period. I'd taken the case off my iPhone and was not used to how slippery the naked iPhone really is.

Flowers by the pool in RV park in Lubbock, Texas. Taken with DxO One. Click to enlarge. Credit: William Porter
The app for that
The camera has a physical shutter button and there's a postage-stamp sized touch-sensitive display on the back that is useful mainly to let you know whether the DxO One is on, off, or asleep. Otherwise, every aspect of the camera's operation—even shutter activation, if you like—is controlled through the DxO One iPhone app.
The visually-appealing and intelligently-designed app is a worthy companion to the camera. It provides the classic shooting modes (program, aperture priority, shutter priority, manual, and full auto) plus a handful of scene modes (sport, portrait, landscape, and nighttime). It also provides most of the controls found on stand-alone cameras: aperture, shutter speed, ISO, exposure compensation, focus method, exposure method, white balance, flash, capture-file format, timer, etc. And thanks to the connectivity provided by your iPhone, the DxO One's images are automatically geotagged and, if you like, can immediately be shared with friends.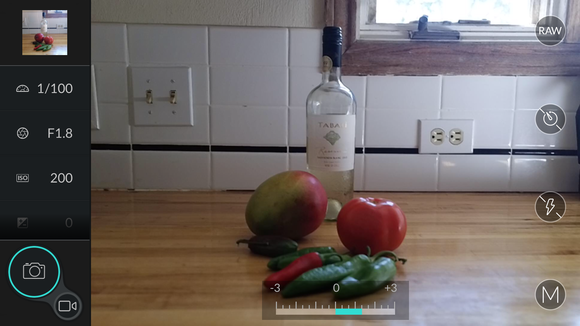 DxO One app on iPhone 6 Plus. In all the autoexposure modes (PAS, Auto, and the scene modes), the exposure displayed on screen is WYSIWYG. In full manual mode, exposure is indicated by the meter. Here, the picture looks like it's going to be a bit dark, but the meter tells me I'm "over-exposing" by 1 1/3 stops (which isn't overexposure because it's what I want). More controls are available below the ISO and exposure compensation items. Credit: William Porter

DxO One in manual mode. Minimally processed in DxO Optics Pro with a little help from DxO ViewPoint (to straighten the tiles). Credit: William Porter
Previous Page 1 2 3 4 5 6 7 Next Page