Digital Storm Aventum 3 review: This big, bad desktop celebrates high-end gaming
This rig doesn't just pack state-of-the-art hardware—it displays its components beautifully, too.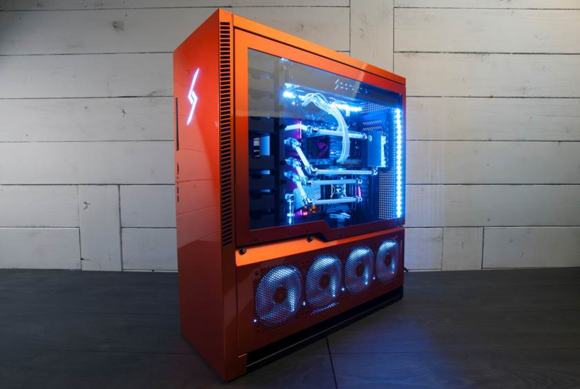 In this world of phablets, ultra-thin laptops, and wearables, is there still room for an old-fashioned, gigantic desktop PC? If you're Digital Storm, the answer is yes.
No, strike that. Digital Storm's big, brash, and bold Aventum 3 is more of a "Hells yes!"—and a challenge to the trends of low-end, low-cost, and tiny. I've seen a lot of big PCs in my day, and the Aventum 3 is among the largest, if not the largest. It's so big, it barely fit on our lab bench.
It also sports a custom American-made chassis with a sleek custom paint job. The paint job has enough clear coats to make it smoother than a car after Biff Tannen himself put two coats of wax on it. Inside are the latest bleeding-edge parts from Intel and Nvidia, and of course, custom liquid-cooling with unique design flourishes.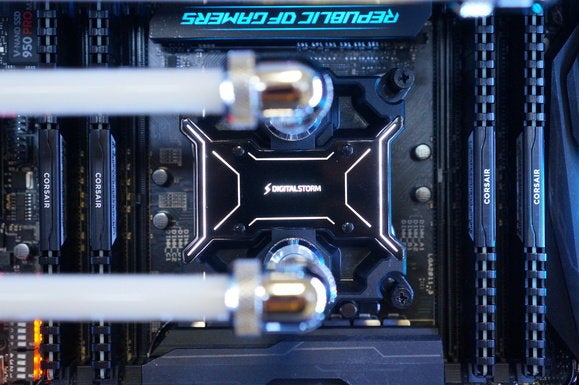 Under that EK water block is Intel's brand-new (and pricey) 10-core Core i7-6950X CPU. Credit: Gordon Mah Ung
Intel inside (and many other things, too)
The Aventum 3's beating heart is Intel's brand-new Core i7-6950X—a mind-boggling 10-core CPU that has a mind-boggling list price of $1,723. Having such a beefy chip does pay dividends: You get stupidly good performance during both single-threaded and multithreaded tasks. With a combination of higher clock speeds per core and so many threads, the i7-6950X can run circles around Skylake and Xeon parts.
It has to be overclocked for that, of course. But since you're paying for a tricked-out system, Digital Storm has done the work for you. The Aventum 3's i7-6950X has been overclocked from its stock clock speed of 3.0GHz under multithreaded loads to 4.3GHz.
Keeping the Aventum 3's Broadwell-E processor company are two of Nvidia's GeForce GTX 1080 cards in SLI mode. Why not three or even four GTX 1080 cards? You can thank Nvidia for Digital Storm's restraint. The graphics company has essentially washed its hands of supporting more than two GeForce GTX 1080 cards in SLI. We don't know if that limitation is permanent, but it's truly sad.
For storage, the Aventum 3 relies on a Samsung 950 Pro M.2 NVMe drive. I expected a PCIe add-on card, but that said, the 850 Pro is no slouch. It's just funny to see such a tiny drive serve as primary storage in such a huge system. You also get a 6TB hard disk drive, 32GB of Corsair DDR4/3000 RAM in quad-channel mode, and a 1,500-watt Corsair power supply.
This tower of power is fully water-cooled by a slick custom-loop design built from hardline tubes and chromed elbows. Even slicker: The plumbing wends its way through the case itself, and several of the junctions have been made from plastic blocks. If you're asking why—well, why not?