Demystifying digital camera sensors once and for all
Forget megapixels. A camera's soul is its sensor, and not all are created equal.
Among other variations in this category are 1/3.2, 1/2.3, 2/3, 1/3.2, 1/1.2, and 1/1.8. With sensors as tiny as 1/2.7-inch (5.37 x 4.04mm), it's no mystery that smartphones are making serious inroads on compact camera sales.
What goes where?
Compact mirrorless interchangeable lens cameras typically feature a range of sensor sizes. Smaller ones include the 1/2.3-inch (6.17 x 4.55mm) sensor in the Pentax Q, and the 1-inch sensor used in the Nikon 1 Series. The Panasonic Lumix GF5, the Olympus Pen series and the OMD EM-5 have Micro Four Thirds 4/3-inch (17.3 x 13mm) sensors.
Advanced compact cameras with fixed lenses, such as the Fuji X100S (23.6 x 15.8mm) and Nikon Coolpix A (23.6 x 15.7mm) feature an ASP-C sensor. The Fujifilm X20 has a 2/3-inch (8.8 x 6.6mm) sensor while the Canon G1 X has a 1.5-inch sensor (18.7 x 14mm).


Smartphone lineup of teensy sensors.
Standard point-and-shoot cameras such as the Canon PowerShot SX280 HS and the Samsung Galaxy Camera use 1/2.3-inch sensors (6.17 x 4.55 mm), while better ones like the Nikon P7700 have a larger 1/1.7-inch (7.44 x 5.58 mm) sensor.
Smartphones such as the iPhone 5s and the HTC One have a 1/3-inch image sensor (4.8 x 3.6mm) and fewer pixels. The Nokia Lumia 1020 has a 1/1.5-inch 41-megapixel CMOS sensor. The Sony Xperia Z1 has a 1/2.3 inch 20.7-megapixel sensor. The Samsung Galaxy S4 Zoom features a 16-megapixel 1/2.3-inch sensor.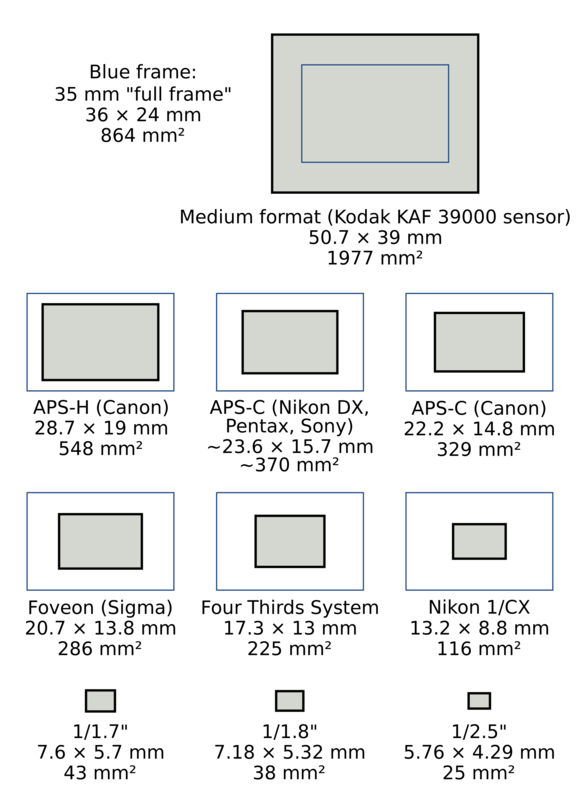 Putting a name to an approximate sensor size.
Packing megapixels
You may have heard of the "megapixel myth," which states that the more megapixels your camera can pile on its sensor, the better your images will be. This is not true. You don't just want more pixels, but rather the right number of pixels relative to the size of the sensor. And the right number depends on what you intend to do with your photos. For massive cropping or extra large printing, extra resolution is useful. For online sharing or conventional printing, resolution is less important. Tradeoffs include large file size and more processing power to handle high-res photos, versus noise in lower-resolution images.
Smaller sensors that cram pixels together tend to have poorer low-light performance and show noisy artifacts.
What to look for
Whenever possible, as you shop for a new camera, pay attention to what kind of sensor it uses. Because the sensor size and type influences such a vast portion of your camera's output, it will prove a critical factor in size, resolution, operation, and price.
Image sources: Canon, Wikimedia Commons
Previous Page 1 2 3