Demystifying digital camera sensors once and for all
Forget megapixels. A camera's soul is its sensor, and not all are created equal.
With full frame sensors, there's no crop factor, so what you see through the viewfinder is what you shoot. Larger sensors in full-frame models, when paired with wide aperture lenses, can deliver extremely shallow depth of field—great for macro and video work. Generally, the larger the sensor, the bigger the camera body and the larger the lenses needed to take advantage of it, though that is starting to change.
APS-H (28.7 x 19mm): APS (active pixel sensor) is the most popular sensor for both interchangeable lens and higher quality fixed lens cameras, and it is used for a vast portion of consumer and prosumer DSLRs. The APS-H type combines a comparatively large sensor with a moderate pixel count to boost speed and ISO performance. It applies a 1.3x crop factor to mounted lenses. The Canon 1D Mark IV and Canon 1D Mark III feature this kind of sensor.
APS-C (23.6 x 15.8mm): Most major brand prosumer and enthusiast DSLRs from Canon, Nikon, Pentax, and Sony use an APS-C sensor—and not all APS-C sensors are equal. A Canon APS-C sensor measures 22.2 x 14.8mm while the Sony, Pentax, Fujifilm, and Nikon (DX) range from 23.5 x 15.6mm to 23.7 x 15.6mm. The Ricoh GR (23.7 x 15.7mm), the Canon EOS M (22.3 x 14.9mm), the Sony NEX line, and Fujifilm all use APS-C sensors.
Four Thirds (17.3 x 13mm): Roughly a quarter of the size of a full-frame sensor, four thirds is an open DSLR standard created by Olympus and Kodak and is used for all Olympus and Panasonic Four Thirds and Micro Four Thirds DSLRs. It has a 2x crop factor, which doubles the effective focal length of a mounted lens. The new Olympus OM-D E-M1, the Olympus Pen E-PL5, and the Panasonic Lumix GH1 use this sensor.
CX format (1 inch): Announced in 2011, Nikon's CX format has been adopted on the Nikon 1 camera system. Sony also released the pocket-size Cyber-shot DSC RX100 digital camera in 2012 that also uses a 1-inch sensor (13.2 x 8mm) with a 2.7x crop factor.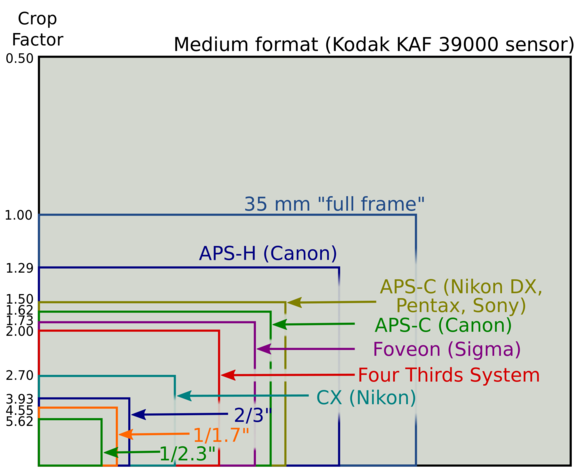 Camera sensor sizes and crop factors.
Small sensors
The last two sizes listed below make no practical sense. As a point of reference, these small sensor definitions are derived from the size of video camera tubes used in CRT TVs circa the 1950s.
1/1.7 inch (7.6 x 5.7mm): Among the largest sensor sizes used in compact cameras, these allow larger pixels for improved noise performance over standard pocket point-and-shoots. Larger pixels more ably handle gaps in brightness to reproduce better image detail.
1/2.5 inch (5.76 x 4.29mm): This is among the smallest sensors, typically used in low-priced point-and-shoot models. While cheaper to manufacture, the smaller pixels on these tiny sensors crank up image noise and reduce dynamic range, resulting in less than superlative images. However, that still may be better than a smartphone, especially for portraits of people.