Dell Inspiron 17 7778 review: This massive 17-inch 2-in-1 is a worthwhile desktop replacement
Start strengthening your wrists if you plan to carry it around often.
Office Work
We test a machine's capabilities in the cubicle world by running PCMark's "Work" benchmark, a collection of tasks you'd do as a desk jockey. It includes video conferencing, spreadsheets, getting coffee, etc. Any modern machine will be able to tear through this test like an accountant through a stack of TPS reports.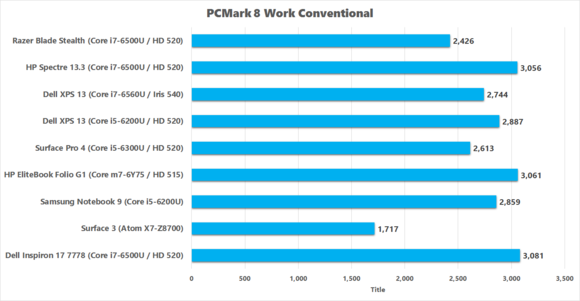 Once again the i7-equipped Inspiron performed well, barely eclipsing the HP Spectre and knocking on the door of far more expensive notebooks that also have faster SSDs, such as the Asus Zenbook Pro. It also beat the Samsung Notebook 9, which sports a Core i5-6200U.
Gaming Performance
As we said earlier, the GeForce GTX 940MX is a low-end GPU, albeit a lot better than integrated graphics. If you're looking for a gaming notebook, you'll want to look elsewhere.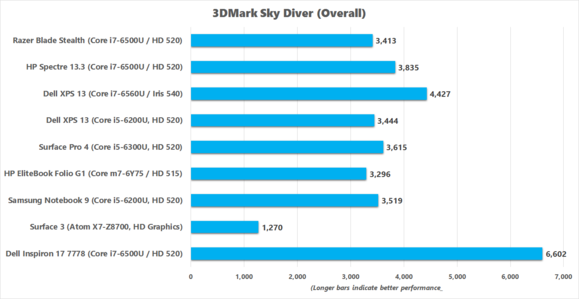 To give you an idea of where the Inspiron stands, its score on 3DMark's Sky Diver test was about half what we saw from the GTX 960M-equipped Dell XPS 15, but double what you can expect from a system with integrated graphics, like the HP Spectre 13.3. Overall, that's not too shabby.
Battery Life
One of the benefits of huge laptops is that they usually hold huge batteries, but with the current trend of thinner-and-lighter, battery size often takes a backseat. With a laptop this size, which isn't likely to be used for regular or extended travel, that might not be such a big deal.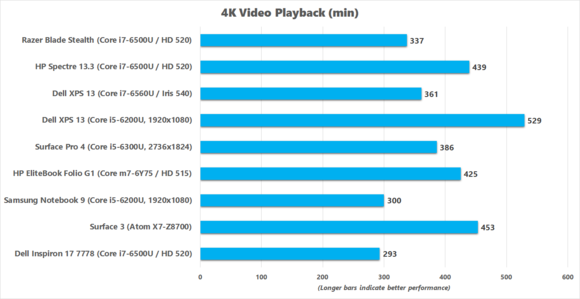 Dell says this particular configuration of its Inspiron 17 is good for up to 7 hours, 25 minutes, which is a decent runtime for a notebook of any size. Unfortunately, in our 4K video rundown test we only achieved roughly 4.8 hours, or 293 minutes. That's still respectable for a notebook that might be moved from room to room, and it will certainly get you through a movie or two on a long flight—of course, whether this notebook would even fit on a tray table is a different story.
Conclusion
Overall the Inspiron 7000 package is quite effective, though it's questionable whether a 2-in-1 format makes sense on a device this size. Still, it's nice to have that as an option. Because the 17-inch form factor has become a lot less popular these days, we were unable to compare the Inspiron 17 to same-size competitors. But we have to say, it felt great to be back in front of a massive display, and though the panel Dell uses is only 1080p, it is crisp and looks superb.
Previous Page 1 2 3 4 Next Page