Dell Inspiron 17 7778 review: This massive 17-inch 2-in-1 is a worthwhile desktop replacement
Start strengthening your wrists if you plan to carry it around often.
Connectivity takes a "one of everything" approach: one USB 2.0 port, one USB 3.0 port that lets you charge or use connected devices when the laptop is sleeping, and one USB C port. There's also an HDMI 1.4a port and an SD card reader. Yes, it checks all the boxes, but just one USB 3.0 port is skimpy.
Nicely, almost all of the internal parts can be swapped out should you choose to upgrade. The M.2 SSD, hard drive, memory, and wireless card are all easily accessible once you remove the back panel via 12 small screws. The panel pops off with little fuss and swapping out the parts is straightforward.
Performance
For everyday work, this Inspiron handles itself just fine. At the heart of everything is an Intel Core i7-6500U, a Skylake CPU with two cores and Hyper-Threading that runs at 2.5GHz stock and can boost to 3.1GHz. It's paired with 16GB of DDR4 memory, and graphics power is provided by a discrete Nvidia GTX 940MX module that has a tiny 64-bit memory bus and 384 shader cores. It's a low-end part that's only useful for light gaming, but it still offers a lot more muscle than integrated graphics.
Let's dig into the numbers.
CPU Performance
To test CPU performance, we run Cinebench R15, which puts the hurt on a chip by rendering a 3D scene. It's pure computational athletics, and the more cores you can throw at the test, the better. Since the Inspiron 17 is only rocking four logical cores, it's hamstrung by having just half the cores of pricier competitors, like the Dell XPS 15. The trade-off is that it costs about half as much. We also doubt anyone would buy this notebook to perform 3D rendering. Nevertheless, this test is useful for telling us if a notebook's CPU is performing as expected.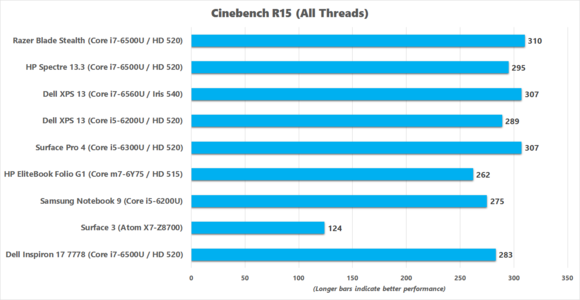 The Inspiron hit a score of 283, which is in line with our expectations for a quad-core (a la Hyper-Threading). It's almost the exact same score we saw from the HP Spectre 13.3, which uses the same processor. Compared to notebooks with eight logical cores, however, the Inspiron's score is roughly half their capability, demonstrating how this test scales with the number of logical cores available.
Handbrake Performance
To test the Inspiron's video editing capabilities we had it chew its way through a 30GB video file, converting it to the Android-friendly MP4 format. This takes quite a while and taxes the CPU 100 percent.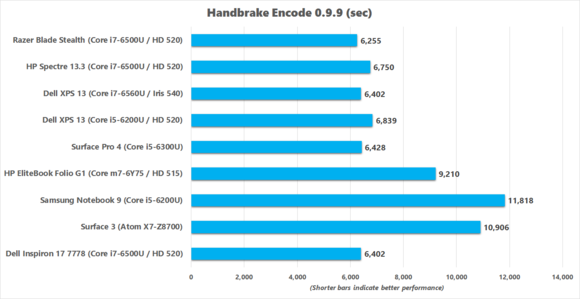 The Inspiron took 107 minutes to complete the task, which is about 50 minutes longer than a system with eight logical cores, once again, but surprisingly faster than the HP Spectre with the same CPU. It also spanks Core m systems and even a Core i5 notebook like the Toshiba Portege Z30-C.
Previous Page 1 2 3 4 Next Page