Dell Inspiron 15 7569 review: An affordable and solid midrange 2-in-1
Not very flashy, but quite effective.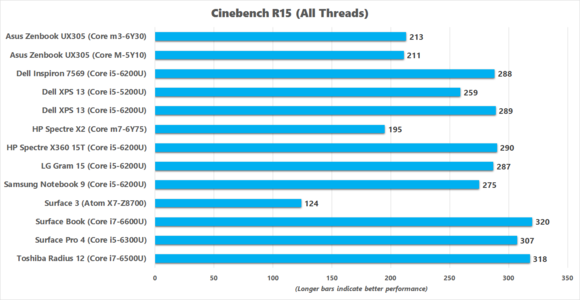 Handbrake
We use Handbrake to test how a notebook's performance in the editing bay. We feed the machine a hefty 30GB file, which it chews on for an hour or two before spitting out an Android-friendly MP4 file. In this test, when compared to its rivals, the Inspiron 15 proved faster than the Dell XPS but a bit slower than the HP Spectre X360. It also spanked the Samsung Notebook 9 for some reason, despite both machines using the same CPU, amount of memory, and an SSD. This is why we run these tests—to see if any abnormalities pop up. Whereas the Dell XPS took 7,728 seconds to munch on the file, the Inspiron 15 required just 7500, so it wasn't a massive victory, but a victory nonetheless. The HP Spectre required about 10 minutes less, however, so over the course of a two-hour test it's not a huge deal but certainly something to note if every minute is precious in your working day.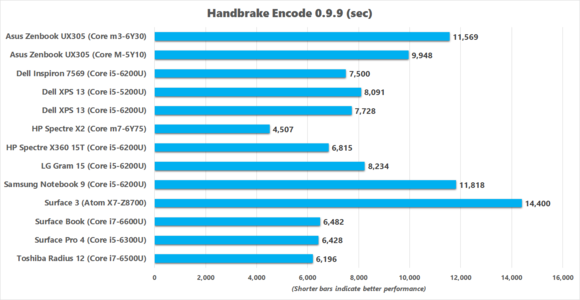 PCMark 8
It goes without saying that any modern laptop with a decent CPU and an SSD is going to tear through office work like a Rottweiler at a postal convention, but we still like to run these tests just to make sure the rubber meets the road or some such analogy. In the end, all the systems we tested that are similarly configured to the Inspiron performed about the same here, with only small deviations.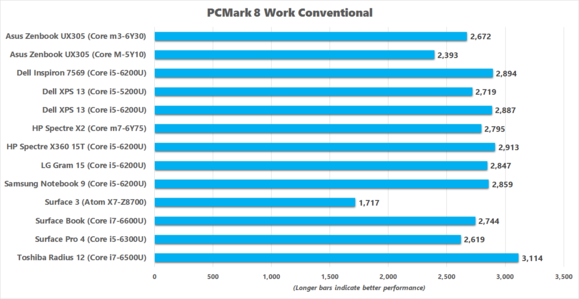 3DMark
Any laptop that uses integrated graphics can't be called a gaming machine, period. But that doesn't mean it can't still play older games. The graphics in Intel's Skylake CPUs are certainly the best integrated graphics we've experienced, even if they can't compete with the lowest discrete GPU. In 3DMark, we run a test called Sky Diver, and here the Inspiron 15 outperformed all the other notebooks we've tested with this same CPU/GPU combination, which is quite impressive. It doesn't mean those other notebooks are relegated to running Half-Life while this notebook can play Doom on Ultra-Nightmare, but it shows that the laptop is performing to the best of its ability.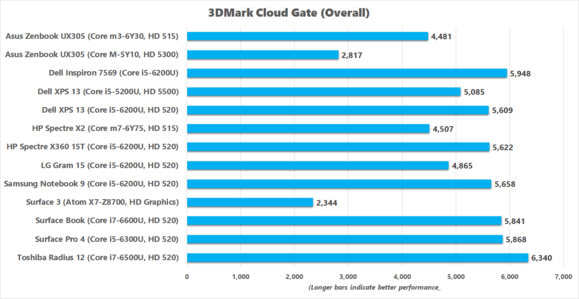 Battery Life
Dell's spec sheet says this notebook can achieve eight hours of battery life using a test called Mobile Mark, but we don't run that test. Instead we loop a 4K video at 250-nits screen brightness and with all wireless radios turned off until the laptop dies. We then look at the notebook's battery log to find out when the test began and when it shut down, which typically occurs when the battery reaches five percent charge. In this test, the Inspiron's smallish 42Whr battery was only able to achieve 293 minutes on average, or about five hours. That's not too shabby in general, but obviously far short of "all day" battery life, or the eight hours Dell says the laptop can achieve. Granted, you could certainly eke out more time with just light web browsing, but we don't test for that. Most of the other laptops in this class also scored around five hours, so the Dell is in good company. But one laptop the Inspiron 15 couldn't touch is the Dell XPS 13, which lasted over eight hours in this test. Of course, the XPS is a flagship product, so we need to keep our expectations in check here. The XPS 13 also costs $350 more than the Inspiron.
Previous Page 1 2 3 4 Next Page