Dell Inspiron 15 7569 review: An affordable and solid midrange 2-in-1
Not very flashy, but quite effective.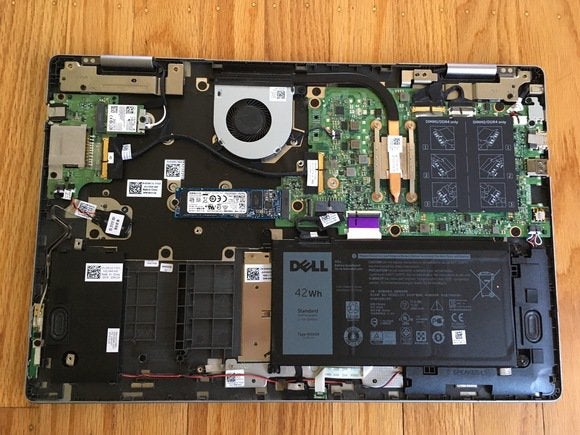 Ports, keyboard, trackpad, and audio
For connectivity, the right side of the notebook features a tiny power button at the leading edge, which is the absolute last place we'd choose to put this button, as most right-handers will be apt to pick up the notebook at this spot. We never shut it off accidentally, however. Next to that button is a volume rocker switch, a nice alternative to the Fn-key variant. The right side also sports an SD card reader, one USB 3.0 port, and a lock port. The left side features a headphone jack, one more USB 3.0 port, a USB C port, HDMI, and the power plug.
The keyboard is spacious but does not include a number pad despite there being enough room for one. We don't mind, however, as that keeps the keyboard from being shifted to the left, and off-center. The keys are quite firm with nice travel, and should please mechanical-keyboard fans. The keyboard also features a pleasant white backlight that looks great and even makes typing at night kind of fun.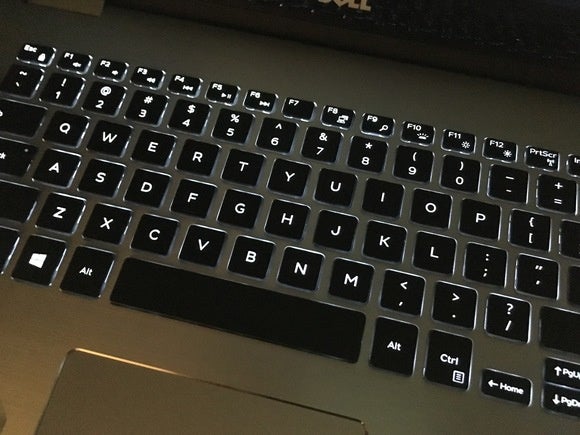 The trackpad is huge and as on the 17-inch model, one of the best we've ever used. People always say Apple makes the best trackpads, but our guess is those people haven't sampled these trackpads, as they feel entirely accurate. The sensitivity is just right out of the box and the slightly matte surface provides excellent resistance to your finger as you drag and tap. It's very well engineered, and a joy to use.
We were also impressed with this laptop's superb audio. It produces bass you can feel, and Dell provides an equalizer along with several presets for music and movies that are well matched and sound terrific. It also gets plenty loud, so much so that you'll probably never turn the volume all the way up, at least indoors.
Performance
But how does it actually hold up during use? We put the Inspiron 15-inch up against a plethora of other mid-size portables, using our usual battery of tests.
Cinebench R15
To test the Skylake CPU's mettle we run Cinebench R15, which is a straight-up test of how long it takes a CPU to render a 3D scene. The more cores, the better, and this test pegs the CPU at 100 percent load through the duration of the test. Not surprisingly, the Inspiron 15 scored exactly the same as the last two Core i5-6200U laptops we tested: Dell's superb XPS 13 and the HP Spectre X360 15T. Since this is a straight horsepower test, performance can vary due to changes in clock speed, heat throttling, etc. But a dual-core CPU will never outperform a quad-core CPU, so results typically scale with a CPU's core count, unless there's a problem. The Dell didn't exhibit any problems, and it performed well for its spec.
Previous Page 1 2 3 4 Next Page