Crucial 750GB Limited Edition MX300 SSD review: At last, a TLC drive with sufficient cache
This TLC NAND drive won't regularly let you down when writing large files.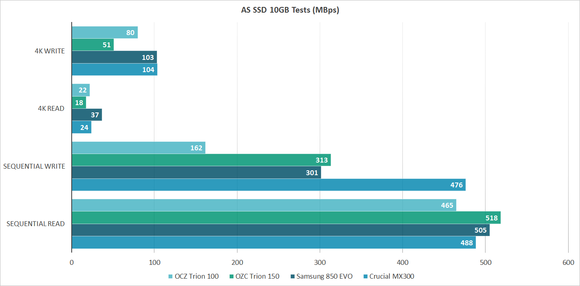 AS SSD doesn't write enough data to exceed the MX300's cache, but that highlights the benefits of treating more of the NAND as MLC.
In our 20GB copy tests shown below, the MX300 performed like MLC NAND-based drives, which sport faster flash memory that doesn't need caching and doesn't exhibit performance drop-offs—albeit a slightly slower one.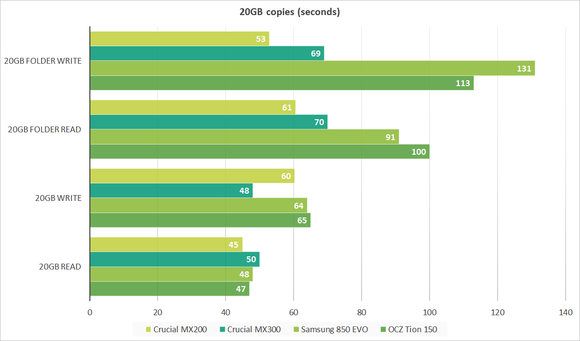 Even our formerly illustrative 20GB copy tests didn't reveal the M300's TLC nature.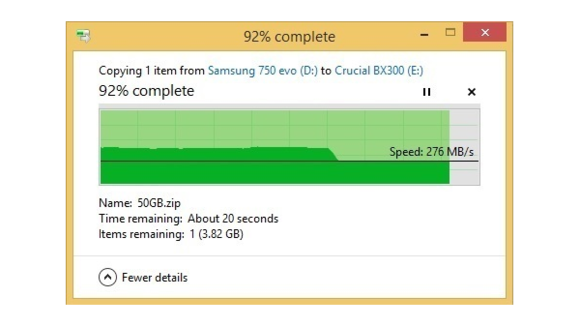 The MX300's write performance will drop off to a little less than 300MBps, but you'll have to transfer much more data than with other TLC NAND-based drives to hit that point. This was a 50GB copy.
As seen above, it took a 50GB copy to finally show what happens when a write operation falls outside the 750GB Limited Edition MX300's 30MB cache. The speed drops to about 275MBps, or roughly 10MBps slower than with the Samsung EVO 850, but it's still on par with OCZ's Trion 150 and Toshiba's Q300 (non-Pro version).
Conclusion
If you're looking for a large-capacity SSD at the lowest possible price—and one that won't regularly let you down with sub-par large-file write performance—the Limited Edition 750GB MX300 is the drive for you. That is, unless you find a great deal on an MLC drive. That caveat bears repeating.
Note: This review applies only to the Limited Edition 750GB MX300. Other versions and/or capacities of the MX300 may not be so amply endowed with cache.