Corsair Void Wireless review: This headset is your best bet if you must go wireless
This one's a lot better than the H2100.
The microphone is your standard boom design. You can flip it out of the way when idle but it doesn't detach. This is a gaming headset first, not a pair of headphones pulling double-duty.
Corsair touts a feature called "InfoMic" which is actually just some LEDs embedded into the mic boom. It's meant to convey a range of information—not just mute but EQ, Dolby status, and battery life. In practice, however, I found the LEDs too small and out of the way for them to be at all informative.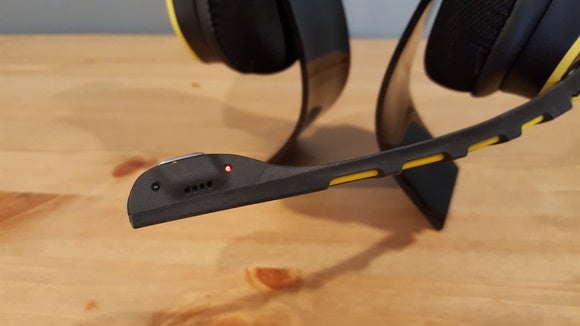 Finally, the Void Wireless comes festooned (like any half-decent wireless headset) with a handful of controls built into it. On the outside face of the left ear are the mute and power buttons, while a volume rocker sits on the rear. The rocker also pulls double duty as a button to cycle through EQ settings, but it's a bit like trying to push down on a Jell-O mold—it has a tendency to rock back and forth instead of pressing neatly inwards.
Solid untethered sound
The real test for Corsair is audio quality, though—especially in light of the ultra-bright, ear-fatiguing sound of the H2100s.
The Void Wireless sounds pretty good. Yes, you can get better audio for cheaper if you go wired—like, say, the always-popular HyperX Cloud, or any number of headphones if you don't need a microphone. And yes, you can get better audio quality from a different wireless headset if you spend more money.
But for under $100? The Void Wireless is a huge improvement over its predecessor and good enough that I feel comfortable recommending it for everyday gaming usage.
It's still a bright headset on account of the bass being a bit underpowered. The midrange is clear and punchy though, and the highs have been rolled off enough that you don't get the sharp sound of the H2100. Audio does have a weird, overly compressed slickness, but it's only really noticeable if you compare the Void Wireless to a better set of headphones.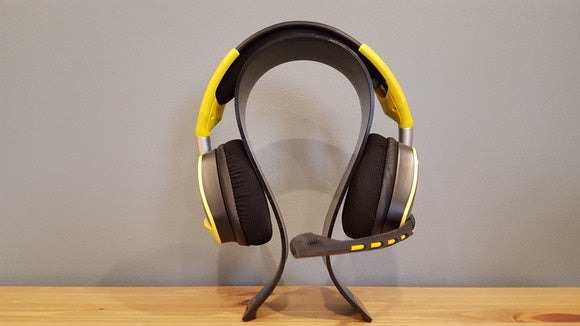 Things get even better if you're willing to download Corsair's CUE software and fiddle with the equalizer for a while. While the Void Wireless will never be a bass powerhouse, you can get it to sound pretty decent by pushing the low end up a bit and maybe bumping a few of the highs if you want guns and the like to sound extra crisp.
Again, it's not going to win an award for sound—but for under $100? Wireless? Yeah, it's pretty damned good.