Corsair Void Wireless review: This headset is your best bet if you must go wireless
This one's a lot better than the H2100.
Once upon a time, a wireless gaming headset would cost you $300. That's quite a premium, considering you can find a quality wired headset for under $100.
But over the last few years, the push for affordable wireless headsets has grown. Corsair in particular hasspearheaded the push for cheaper wireless, and the Void Wireless is its latest iteration. The price is phenomenal—only $100 on Amazon (and sometimes even less)—but it's so low that it's hard not to be suspicious. Can you really get a quality wireless headset for that cheap?
An unconventional approach
The answer is "Sort of."It's important to point out that I think the Void Wireless is a solid improvement over Corsair's previous wireless model, the H2100—and not just because Corsair ditched the tribal tattoo logo and went back to the traditional trio of sails.
It's a markedly better design. Weird, for sure—the earcups are kite-shaped rather than round, which looks odd. But the Void Wireless feels solid, with metal hinges and a padded metal headband that sits slightly forward on the head. I wasn't a huge fan at first, but it helps offset the weight of the set.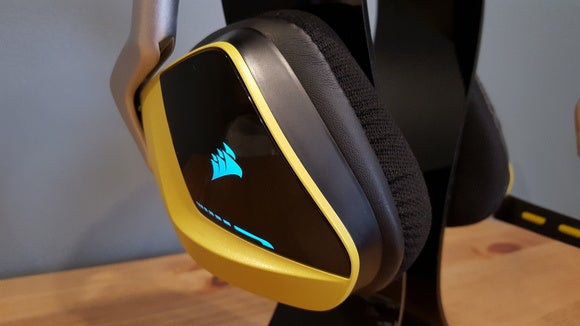 Yes, the Void Wireless is heavy. Not just heavier than your average wired set, but heavier-feeling than its wireless competitors, too. And while the forward-slanted band alleviates the problem a bit, it still has a tendency to slip around if you look down.
That being said, it's comfortable enough for long gaming sessions. The ears are a bit on the small side, and you should expect to play around with the headband adjustments until you get the earcups situated perfectly, but once you do there should be little-to-no tension on your jaw. The band controls most of the fit.
And despite the fact Corsair sent us the bright-yellow version of the Void Wireless to review (complete with yellow-accented USB dongle), it seems like the default is now the black model. A relief, particularly because the Void Wireless comes with RGB lighting, and it turns out that not much goes with "Stab Me In The Eyes Yellow." The lighting is understated here though—just the sails logo and a small accent line on each cup. It's a nice nod to the RGB capabilities of other Corsair peripherals without being overly showy or distracting.
Battery life is top-notch for a wireless headset, hitting 12 hours reliably with all the RGB lighting on and turned up. You should get 15 hours easily if you go dark. Point is, it's enough to get you through a long day or two of gaming. And if you need to, you can also still charge while using the set.