Braven 105 vs. Jam Rewind: Portable speakers with good sound
These two durable Bluetooth speakers are both small and inexpensive, but they have distinct differences as well.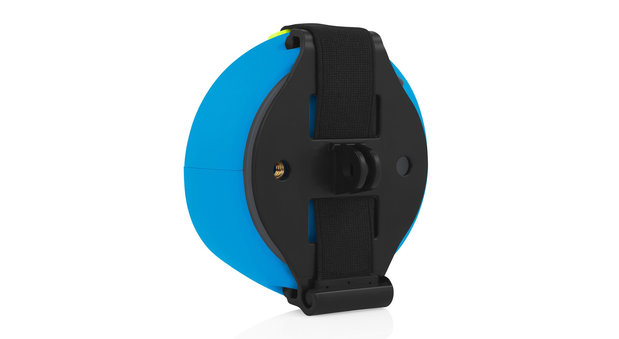 The back of the Braven 105 after the stand has been removed. The mounting plate can also be removed, and the elastic band looped to the top of the speaker.
The speaker comes in seven exotically named colors: Black, Raspberry (pink), Alpine (off-white), Energy (blue), Periwinkle (purple), Sunset (orange) and Electric (green).
According to the manufacturer, the battery is good for eight hours of play. While I didn't perform any formal battery tests, it took several days of occasional playing to run the battery down, which would back up the company's claim.
The Braven 105 had no problem pairing with my Huawei Nexus 6P smartphone. It uses tones and a small LED in front to signal when the speaker is on or off and when it has paired. It lets you know that a call is coming in by playing "The Ride of the Valkyries" (a tune that seems very popular as a ringtone for audio devices).
While the Braven 105 doesn't have quite the volume or the bass of the Jam Rewind, the sound it produced was cleaner and less muddy, especially when it came to vocal solos or more delicate music.
Bottom line
The Braven 105 is fine speaker at a reasonable price, and has an innovative design that lets you hang it, mount it or stand it on a flat surface. If it weren't so difficult to access the power port, this would be a real winner.
The Jam Rewind has an interesting retro design: It looks like an old-fashioned cassette tape, with its speakers taking the place of the wound tape. But that's the only thing old-fashioned about it.
The 5.8 oz., 5-x-0.8-x-2.5-in. device actually has four speakers -- two in front and two in back. The rubberized case has all the control buttons on top: power on/off; volume up and down; skip forward and back. The play/pause button, which also allows you to take and end calls, is located in the center -- which I appreciated. Too many small speakers have the buttons used for answering calls in some out-of-the-way place, causing confusion when a call comes in.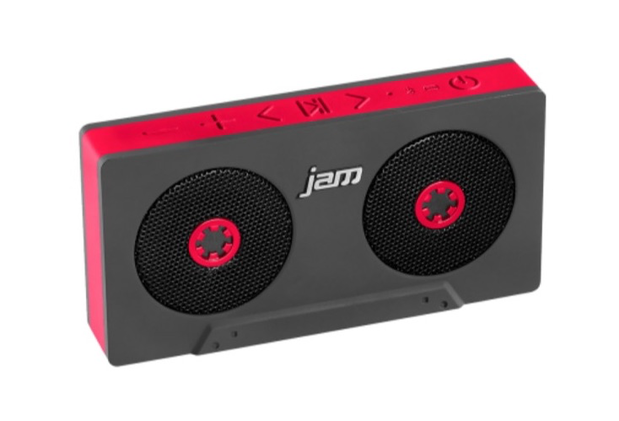 Jam Rewind
On the right side is the micro-USB power port and an Aux-In port so you can use the Jam Rewind with non-Bluetooth devices.
The Jam Rewind uses voice prompts to keep you informed -- a smooth female voice offers handy prompts like "Powering on" and "Ready to pair." When a call is coming in, it says "Incoming call," and if you haven't gotten the message, it follows with loud, old-fashioned telephone ring.