Braven 105 vs. Jam Rewind: Portable speakers with good sound
These two durable Bluetooth speakers are both small and inexpensive, but they have distinct differences as well.
Even if you're the type of music fan who looks for the best in audio equipment, small and reasonably priced gear can sometimes have its advantages. For example, if you're going to the park or leaving on a business trip, you'll want something that's easily portable, yet still offers decent audio. And if you're like me, you'll also want a device that doesn't cost too much -- because there'll be a lot less angst if you accidentally leave it in the grass or on the side table in your hotel room.
There are a lot of low-cost lightweight Bluetooth speakers out there these days. For this review, I tried out two examples: The Jam Rewind, which retails starting at $31 (Amazon price) and the Braven 105, which sells for $50 (Amazon price). Both are small enough to stick into a pack, a bag or even a commodious pocket; both can act as speakerphones; and both offer reasonably good audio. But they're also different in some interesting ways.
The Braven 105 reminds me a bit of those products you find on late-night TV that can be turned into three different objects just by pushing here and twisting there. In the case of the Braven, it can become a desktop speaker, a mounted speaker for a bicycle or other vehicle, and a dangling speaker that can hang from a wrist or a backpack. Curious? I'll explain in a moment.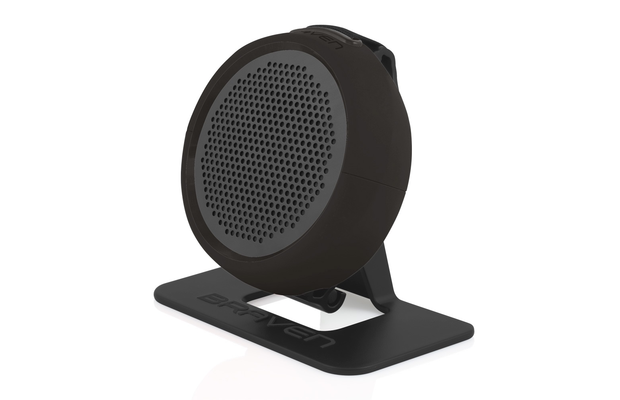 Braven 105
The Braven 105 is a round device that measures 3.8 x 3.8 x 1.3 in. and weighs 7 oz. The speaker is waterproof and wrapped in durable rubber. The volume buttons are on the left side, along with a multifunction button that acts as a power/play/pause/answer/hang-up control. A flap in back opens to reveal the micro-USB power port and an Aux-In port.
When you first get the speaker, it is attached to a convenient desktop stand. Unscrew and remove the stand, and you reveal a mounting attachment that is attached to the back of the speaker via a wide elastic band. Don't need the mounting attachment? Unthread the elastic band, remove the attachment, reattach the band to the top of the speaker, and you can dangle the Braven 105 from a backpack or belt loop. There's also a place to screw in a tripod, if you want to. Altogether, this is an impressively innovative design.
But there's one major hitch: Because the micro-USB port is accessed through the back of the speaker, the only way you can charge the Braven 105 is by removing the stand and the mounting attachment. Which is a real pain, especially if you mainly use it as a desktop device.