Bowers & Wilkins P9 Signature Headphones review: Exquisite design, gorgeous sound
B&W knows how to celebrate. The British audio company is marking its 50th anniversary with a set of to-die-for cans.
Indeed, these headphones' specs look more like something you'd see in a high-end tower speaker than in headphones: Claimed frequency response ranges from 2Hz all the way to 30kHz. I'll spell out the lower end of the range, so you don't conclude it's a typo: Two Hertz. That is far, far below the range of human hearing. You won't hear it, but you'll feel it in your skull: Sensations such as the thundering stomp of a T-Rex, the jolt of an exploding depth charge, or the glorious sensation of the world's deepest organ notes.
Presenting impedance of just 22 ohms and with sensitivity at 111dB/V, you'll be able to drive these cans with just about any mobile device or battery-powered headphone amp. But I'd recommend using them with a high-quality headphone amp and DAC for reference listening.
B&W's largest headphones to date
The P9 Signature are the largest headphones B&W has ever produced, and you really notice the difference when you compare the ear cups to B&W's model P7. The P7 offer a snug fit on my head, and they secure to my ears in a fixed, finite position. The P9 Signature, by contrast, have far more room. You can shift the ear cups forward or backward—even up or down—without your ears ever touching the interior edges of the leather.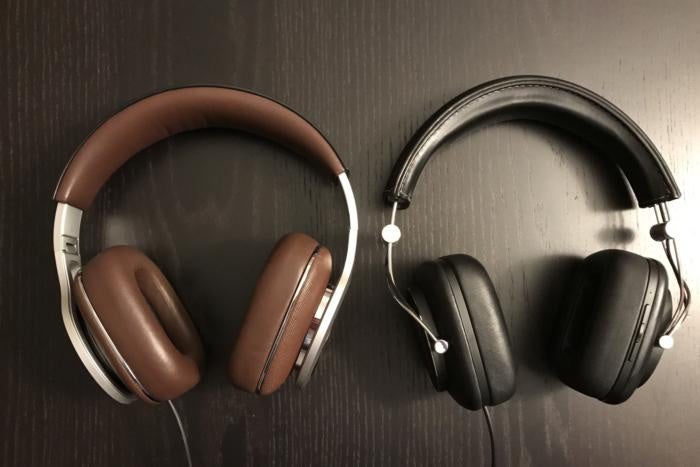 A side-by-side comparison of the P9 Signature with the P7 Wireless. Note how much larger the P9 Signature's ear cups are compared to the P7.
The P9 Signature's 40mm drivers are completely new and take advantage of the larger acoustic cavity inside the ear cups. Look inside and you'll see that the driver unit protrudes slightly into the ear cavity at an angle. Unlike most headphones that send the sound directly into your ears, the P9 Signature's drivers are shifted to the front and angle in toward your ear.
This arrangement feels more natural, because it's closer to the way we experience music without headphones. Many ultra-high-end headphones that cost several thousand dollars use similar designs. It won't fool you into thinking you're listening to floor-standing loudspeakers, but it is a significant improvement over typical side-firing headphones.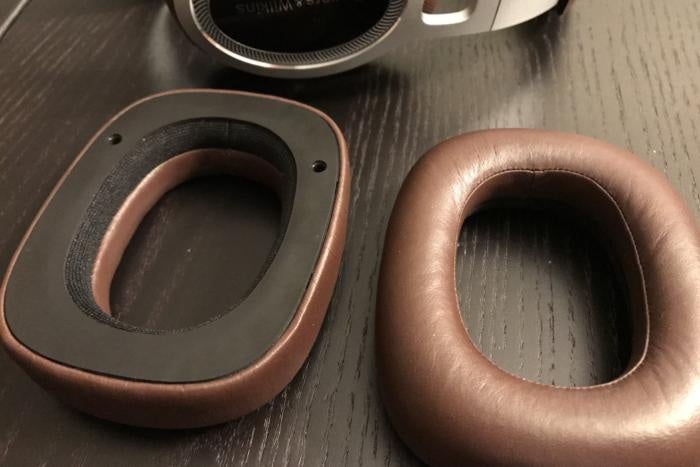 The P9 Signature's ear pads are made of memory foam and have a venting layer that helps mitigate that hot and sweaty feeling you can get from over-the-ear headphones.
The P9 Signature's leather-covered ear pad cushions are made of memory foam, which B&W says will mold to the shape of your head over time. They are incredibly comfortable and best of all, breathable. Over the several weeks I used them for music listening, video conferences, and even phone calls. I could I wear them for hours on end without getting hot and sweaty. But I will say that like every other B&W headphone I've tried, these are tight when you first put them on; they require a break-in period. Headband pressure at the very top of my head was a bit more pronounced with the P9 Signature than with other models; don't fret, they'll loosen up over time.
Previous Page 1 2 3 4 Next Page