Bowers & Wilkins P9 Signature Headphones review: Exquisite design, gorgeous sound
B&W knows how to celebrate. The British audio company is marking its 50th anniversary with a set of to-die-for cans.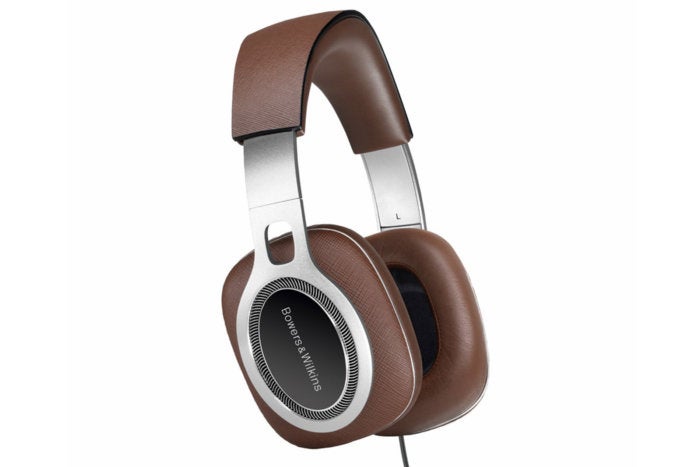 What's the best way to celebrate your 50th year of existence? High-end audio brand Bowers & Wilkins is marking the milestone with the launch of an all-new set of flagship headphones: The P9 Signature.
Joining the celebration could put a hefty dent in your bank account, however; these exceptional cans are priced at 900 bucks. Affordable being a relative term, there's no disputing that the P9 Signature beautifully embodies B&W's 50-year legacy.
These headphones are luxuriously wrapped in supple leather produced by the Italian tannery ScaBrenta. The leather surrounding the interior side of the ear cups and the underside of the headband is soft, supple, and incredibly comfortable against your body. The leather used on the other side of the ear cups and the top of the headband, however, is what's known as Saffiano leather, the result of a machine-stamping process that hardens the material and leaves a distinctive crosshatching to make it more resistant to scuffs and scratches. You could think of Saffiano leather as a dragon's protective scales, and the leather that touches your body as the dragon's soft underbelly.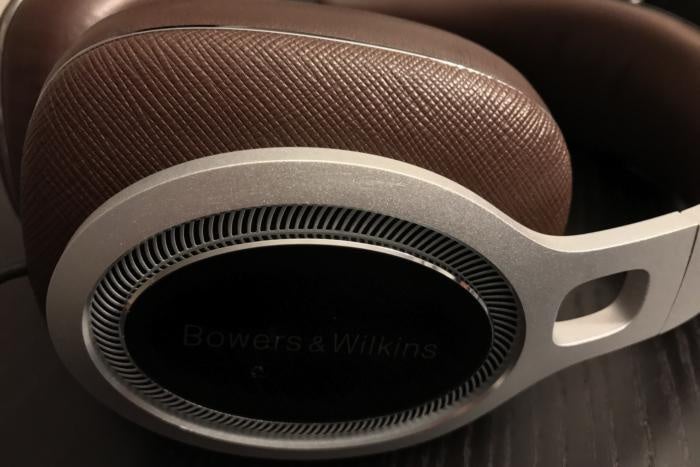 A detailed view of the P9 Signature's cross-hatched leather ear ups and forged aluminum arms.
For $900, you'd think you could order a P9 Signature in your choice of colors, or at lest be given the option of choosing black or brown; alas, brown is your only choice. And unfortunately—or fortunately, I suppose, if you intend to buy a set—these photos don't do the color justice. It isn't your run-of-the-mill tan brown, it's closer to the color of rich chocolate ice cream or pudding. It's equally difficult to convey in photos how brilliantly designed these headphones are.
Similar to B&W's smaller and less-expensive P7 and P7 Wireless, the P9 Signature are outfitted with folding arms that render them compact enough that you can toss them in a backpack or a large handbag. But where those models are fabricated from polished aluminum wire, the P9 Signature's folding arms are fabricated from forged aluminum bands that that are devoid of sharp points save at the joint tips.
Influenced by B&W's loudspeaker heritage
The P9 Signature were designed by B&W's Steyning Research Establishment design team in West Sussex, England. It's the very same group of engineers who developed the company's $30,000 800 D3 loudspeakers. Someone will surely enjoy using that factoid for bragging rights.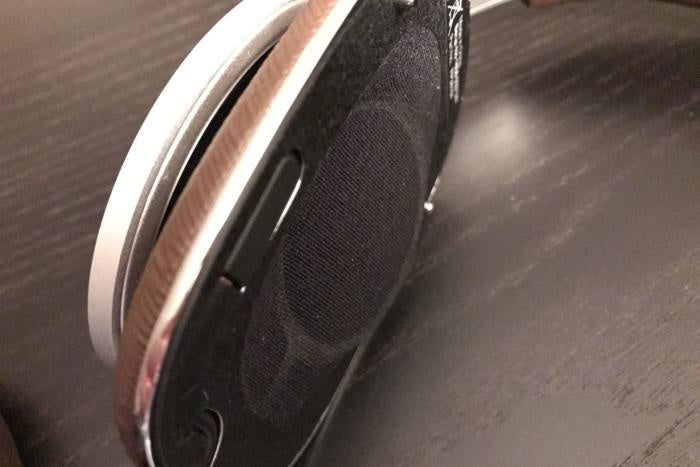 A detailed view of the P9 Signature's angled drivers.