Best wireless keyboards: Cut the cord with Bluetooth and USB models offering extras galore
We hand-tested these wireless models to find better options for your daily driver.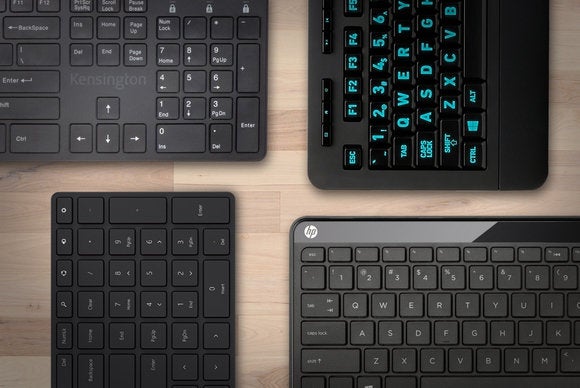 Credit: Rob Schultz
A wireless keyboard frees you from more than a cable. It frees you from the crummy slab you got for free with your Windows PC—does anyone like that one?—and it gives you options. The models we've reviewed vary in size, weight, key design, and compatibility with other operating systems and devices.
This is one category where it really pays to head to a store and try out a model you're interested in. When we had our stack of keyboards in for review, people couldn't help but touch and play with them. They all came with different needs and biases. There's truly no one size to fit all, but our reviews aim to give you enough specifics to make a sound decision. See below for more on how we tested.
Best wireless keyboard
Iogear's Quietus RF Desktop was quieter than some of the models we tested, though not all of them, so don't focus on that selling point as much as the overall package: a nicely designed, well-equipped keyboard with the bonus of a wireless mouse, all for a very reasonable price.
Typing on this chiclet-style model, we enjoyed terrific travel and a satisfying (and fairly quiet) clicking sound. The 12 hotkeys, including instant access to track management, volume handling, and sleep mode, are especially handy.
It uses just one AAA battery, which is supposed to last for up to a year.
[$39.95 MSRP; available from Amazon]
Runner-up
Despite its higher list price compared to the Iogear Quietus RF Desktop, Microsoft's Wireless 900 Desktop costs basically the same if you shop around. Like the Iogear model, this one also bundles a wireless mouse.
It's the runner-up primarily because it doesn't have as many hotkeys as the Iogear model, although it does have eight programmable keys. The other downer for us is the spacebar, which emits a loud thwack when pressed. Considering this button's constant use, that thwack could get annoying fast.
We'd criticize its use of two AAA batteries versus the Iogear's one, but the Microsoft keyboard also is supposed to last twice as long—for up to two years.
[$49.95 MSRP; available through Amazon.]
Key things to know about wireless models
Wireless keyboards connect to a PC in one of two ways: via Bluetooth or a USB receiver. Some older Windows 7 machines may not support Bluetooth. On the other hand, if you need a keyboard to work across different platforms on newer devices, a Bluetooth-enabled model is what you need. The latest Bluetooth 4.0 specification features low-energy technology to save battery, too.
All the USB receiver-driven models in this roundup were flawless examples of plug-and-play keyboards. Pairing Bluetooth keyboards (compared to Bluetooth headsets, let's say) requires a few more steps, and only one of the models was slightly flaky in maintaining its connection.