Best media-streaming stick: Our favorite tools for transforming the boob tube into a full-fledged smart TV
Our buyers guide and hands-on reviews will help you choose between the current offerings from Roku, Amazon, and Google.
When you want to watch streaming-video services like Netflix, Hulu, or Amazon Prime Video on your television, you have three main options.
You could just stick with the smart functions built into most modern TVs, but this often means dealing with sluggish software and a limited app selection. You could also spend more to get streaming set-top box, such as Roku or Apple TV, which perform much better and deliver more features, but these cost upwards of $100.
Your third choice is to take the middle ground between performance and price and pick up a media-streaming stick such as Amazon's Fire TV Stick, a Roku Streaming Stick, or Google's Chromecast. Each of these options costs $50 or less and are likely to provide more functionality and better performance than the typical smart TV.
Which streaming stick is the best? For most people, the answer is easy.
Best streaming stick: Roku Streaming Stick
In 2016, Roku released a new version of its Streaming Stick (model 3600R). The price is unchanged from the 2014 version, at $50, but the hardware is significantly more powerful—Roku says it's eight times faster—and has some new features, including private audio listening through a companion smartphone app.
Roku's biggest advantage over other media streamers is that it supports the most apps, and the faster processor means very little waiting as you move from one app to the next. Smartphone-based private listening is a nice touch as well, as it allows you to watch TV in silence without burning through the battery on the main remote control.
I've also become a fan of Roku Feed, a feature that lets you follow movies and TV shows, and get updates when prices fall or new episodes arrive. Roku Feed would be even it better if it included more streaming services (the most obvious one being Netflix), it's the closest any streaming device has gotten to a universal watch list.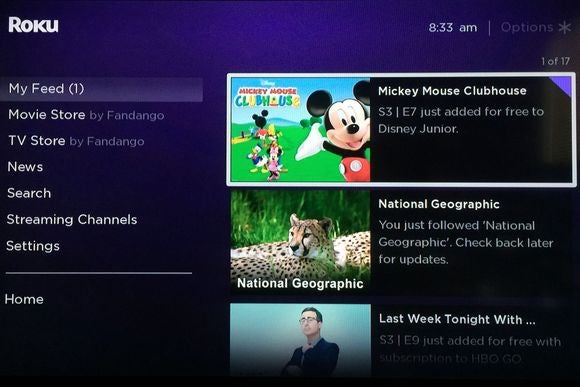 Roku Feed monitors streaming services for new TV episodes and movie availability.
On the downside, the Roku Streaming Stick's remote doesn't support voice search like Amazon's Fire TV Stick, or the pricier Roku 3 ($100) and Roku 4 ($140) set-top boxes. You can still search through Roku's mobile app, but that's more trouble than it's worth unless you're already using the app for navigation. Unless you want 4K resolution, I'd still recommend splurging for the Roku 3 if you plan to stream as your primary source of TV entertainment, but it's a very close call given the price difference and Streaming Stick's new remote design, which is comfier overall.