Arcsoft Simplicam review: Sophisticated security done simply
True to its name, Simplicam offers an intuitive, highly customizable home monitoring solution.
Setup and usage
To setup the Simplicam, you can either plug it into your computer and run an installer or connect it wirelessly using the smartphone app. I used my iPhone, which required me to log in to the app, add the camera, and enter my Wi-Fi info. The app generated a QR code, which I held in front of the camera until it beeped twice to let me know it had scanned it. Within minutes, the camera was connected to my network and I was getting a live feed on my phone.
Simplicam's video quality was clear, if not exceptionally sharp, and I could easily make out details in both normal and night vision. There was negligible image bending at the edges of the frame, and no distortion even when using the 4x digital zoom to focus on areas of interest.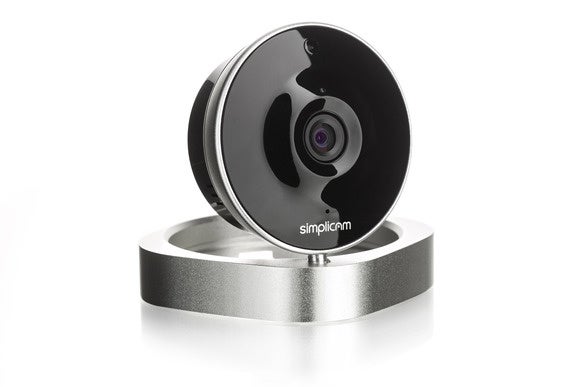 Simplicam pivots and swivels on its ring-mount to provide a multitude of viewing angles. Credit: Simplicam
The Closeli app is one of Simplicam's strengths. Your live feed, or feeds if you have multiple cameras setup, appear on the home screen. Tap on the one you want to view and it opens a feed window with controls to turn off the camera's speaker and microphone, access the facial-recognition manager, and take screen captures of the live feed. The last is particularly handy as you can quickly save visual "evidence" to your phone's camera roll.
Beneath this is a scrolling timeline that marks events with colored-coded bars: yellow for face detection, orange for movement, gray for no events. Tapping a bar takes you to the video record of that event. My man-fingers, however, found it tough to be precise with these thread-thin bars, so I usually opted to press the event icon at the bottom of the screen, which opens a page of all your event clips. You can filter these by motion, sound, or face detection. You can also download or manually delete cloud-stored videos from either the timeline or the events page.
Video playback of these clips is instantaneous and butter-smooth. The audio, while tinny, is clear—in one clip, I could even make out dialog on a downstairs TV recorded while the camera was in an upstairs bedroom.
One of the pitfalls of any Wi-Fi security camera is its tendency to inundate you with alerts any time it detects errant movement. Simplicam has a couple of features that help keep it from crying wolf. The first is its notification flexibility. Rather than getting an alert anytime it detects anything—which is the default—Simplicam can be configured through the app to send you alert summaries every 10, 30, or 60 minutes. Alternatively, you can schedule alerts to be sent to you at set times.