An insider's guide to editing and sharing 3D video
3D imaging and playback are no longer the preserve of large studios: The ability to capture and view 3D footage has been incorporated into consumer electronics.
Although it's expensive, Neo3D is great software that helps speed up 3D editing. It allows you to make adjustments to the image with fine accuracy so that even if the lenses are slightly out of alignment, the software can correct that and make sure that you get the proper 3D effect.
With 3D, however, you still have to do a lot of things twice, even if you are using Cineform Neo3D. For example, if you are rotoscoping a section of video (converting live-action footage to lifelike animation), you have to do so for the left channel and then again for the right.
That isn't the only headache. Three-dimensional filming can be incredibly complicated, as you are not only looking at focus but also at the depth and the spatial relationship between objects across several planes. If your setup is only slightly wrong, your foreground image will quickly resemble a blurry, ghostlike object floating somewhere in space (not in a good way).
3D output options
All of that time-consuming, expensive editing is for naught unless you can watch the results of your work. You will need a 3D TV and some glasses to get the most out of your 3D film. You can watch it on a standard-definition TV with red-and-blue glasses, but the effect is pretty disappointing: The quality isn't there, and instead of the image being crisp and popping out of the screen, it comes out more blurry and hazy.
What's more, you have no easy way to move 3D films from your editing suite to your TV on disc (Blu-ray or DVD) without spending a fair bit of cash. While 3D technology seems to be progressing with the cameras, the editing systems, and the TVs, the actual output options are pretty limited at present.
At the moment, your best bet for 3D Blu-ray creation is to take your project to a finishing studio for mastering. The technology necessary for the task is so expensive right now that it would make very little sense for anyone to try it in their home.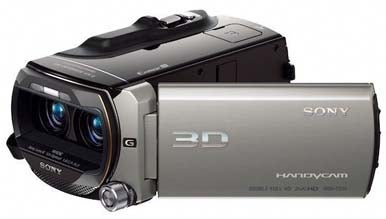 Sony Handycam HDR-TD10
On the much lower end of the quality equation, YouTube 3D is a quick and easy way to watch and share your 3D videos; it will even convert 2D videos into anaglyph 3D footage that people can view with colored glasses.
By uploading your footage and adding "yt3d:enable=true" as a tag for your video, you can view your 3D footage in a number of different ways: with red-blue glasses, with amber-blue glasses, and even through glasses-free methods that involve crossing your eyes. Of course, some methods work better than others, and none of them truly approach the 3D effect you'd get from active-shutter or polarized glasses in a movie theater.