AMD's US$1,500 dual-GPU Radeon Pro Duo is built for virtual reality
It may be the world's most powerful VR card, at least until Nvidia catches up again.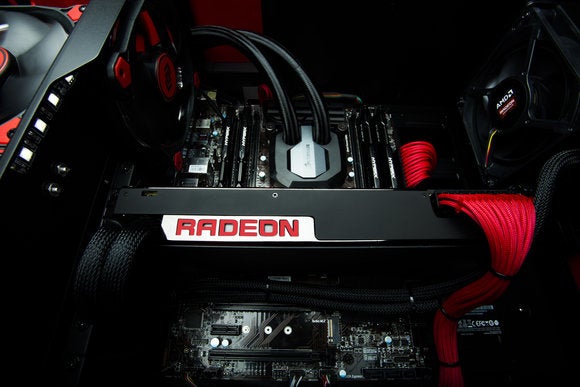 Credit: AMD
Let the virtual reality GPU wars begin. AMD on Monday officially unwrapped a liquid-cooled, dual-GPU card called the Radeon Pro Duo that it says is the most powerful VR GPU today.
The Radeon Pro Duo is essentially two of its Radeon R9 Fury X GPUs shoehorned into the same card. The company said the price of the card is anticipated to be $1,500. Before you choke on your Hot Pockets, that's actually the same price as AMD's last dual-GPU card, the Radeon R9 295 X2 came in at $1,500. That was actually considered a bargain in comparison to Nvidia's dual-GPU GeForce Titan Z, which launched at $3,000.
But you may have some time to save up. AMD already delayed this card from launching late last year, and all it will promise now is a "planned" for the second quarter.
Why this matters: Virtual reality and PC gaming have a never-ending need for more graphics performance, and the company with the most powerful toys usually ends up winning. Although late, AMD's new Radeon Pro Duo is expected to put it in front of Nvidia in the performance game.
The specs we know so far
Full Radeon Pro Duo details, such as the size and clock speed, weren't available before AMD's announcement, but it appears to feature a single 120mm radiator and will require three 8-pin power plugs to run. Here's a close up of a photo AMD released prior to its press event Monday, which shows the power needs of the card clearly.
A standard Fury X requires two 8-pin plugs, and the original prototype board for the dual card (shown last June) also appeared to run on two plugs. This final dual-Fiji card's use of three 8-pins implies up to 450 watts of power consumption, plus the PCIe slot's dedicated power. That seems to imply that if AMD decided to downclock the GPUs in the card (which is typical in dual GPUs), it may not be downclocked much.
One other trick AMD is likely going to pull is its PowerTune technology, also used on its AMD's Fury Nano. PowerTune dynamically adjusts clocks for a given power and envelope. Our testing of the feature on a Fury Nano was fairly positive.
One thing we do know is that, like the Fury X, the card is liquid-cooled. I'm going to imagine the cooler AMD uses this time won't run into the same legal issues as the Fury X's did. With that card, the manufacturer of the cooler, Cooler Master, was sued by Asetek. Asetek then dragged AMD into its fight by seeking an injunction on sales of the Fury X. AMD won't want to repeat that mess.