AMD's Radeon Software Crimson ReLive debuts with features galore
Highlights include impressive new rivals to Shadowplay and FRAPS.
OCAT
Okay, I lied. One of those developer tools appeals to everyday gamers too, though it's not really part of Radeon Crimson ReLive. AMD's new Open Capture and Analysis Tool is a benchmarking tool like FRAPS or PresentMon; pressing a hotkey starts a log of your game's performance, which continues until you press the key again or a pre-specified duration elapses.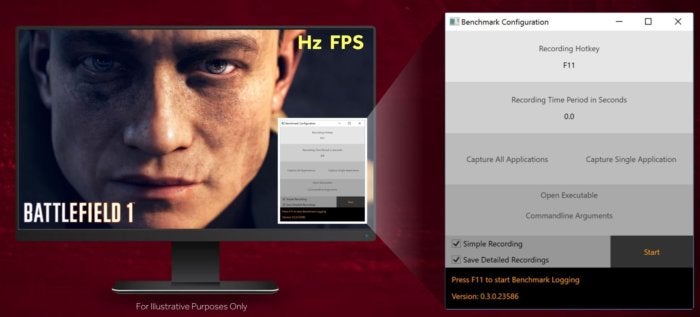 AMD
AMD's new OCAT benchmarking tool.
But here's the really nifty part: AMD's OCAT works just fine with DirectX 12 and Vulkan games. Most popular benchmark tools, from FRAPS to MSI Afterburner, only work with DX11 games (which OCAT also supports). AMD's been slowly building its CPUs and GPUs to take advantage of DX12 for years now, so it's not shocking to see the company push out a tool that lets you measure the performance of next-gen graphics APIs—though it is a nice surprise.
OCAT was designed for simplicity. You can opt to record frame-rate data for only the game you're testing (as with FRAPS) or every running process (as with PresentMon), and the application will save recording data to a spreadsheet file in the Documents/OCAT/Recordings folder. OCAT saves everything from average frame rate to handy granular details like average millisecond per frame and 99th percentile frame times, which can help you quantify a game's smoothness. All in all, it's not as graphically polished as some of the other benchmarking tools out there, but that lack of visual flair doesn't take away from its utility.
Bottom line
For years, Radeon driver updates were few and far between, delivering game optimizations (and a fair share of bugs) long after the release of high-profile games. Those shoddy drivers dragged the Radeon name through the mud, and deservedly so.
No more.
AMD began efforts to right its ship by drastically increasing the amount of automated and manual testing for 2014's Catalyst Omega. That helped, but new drivers still dripped out at a glacial pace. Yet after the formation of the Radeon Technologies Group last November, AMD promised to step up its software game—and it made good on its word in 2016. AMD delivered 29 total driver releases since Radeon Crimson's debut last November, with eight carrying WHQL certification. AMD plans to continue the rapid pace, and has accelerated its testing endeavors yet again, performing 25 percent more testing on ReLive than the original Radeon Crimson release.
Rebuilding a reputation doesn't happen overnight. AMD still has a way to go before gamers once again equate Radeon Software with consistent quality, despite the vastly improved experience of the year past. But AMD's doing all the right things, and with Radeon Crimson ReLive the road ahead looks bright indeed.
Previous Page 1 2 3 4 5