AMD shows how Zen—now renamed Ryzen—is its best chip family in a decade
Your move, Intel. Show us what else you've got with Kaby Lake.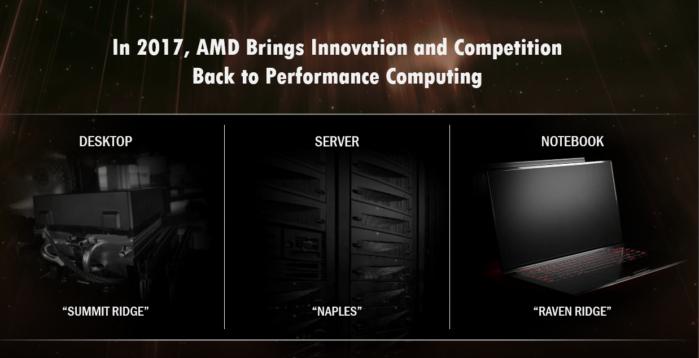 AMD
AMD's three chips for 2017, based on the Zen architecture: Summit Ridge, Naples, and Raven Ridge.
"If you look at 2017, I don't think we've seen anything this exciting since, honestly, back towards the 90's," said Jim Anderson, senior vice president and general manager of AMD's Computing and Graphics business, hearkening back to the AMD K6 series.
AMD set out four years ago to design a "clean sheet" processor architecture that could deliver 40 percent more instructions per clock than the previous generation. It seems that AMD has achieved that goal.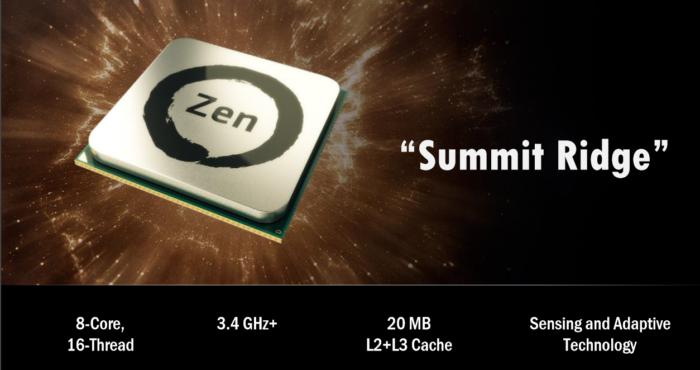 AMD
Summit Ridge's basics: Eight cores at 3.4GHz-plus, 20MB of combined L2+L3 cache, and SenseMI underneath it all.
Previous AMD architectures were optimized for multicore performance. "That just didn't work out because there's a lot of stuff that needs single-threaded performance, " said Kevin Krewell, principal analyst with Tirias Research. "They had functional units that were split between two different cores... With Zen, you get this very wide execution engine, and then when you want to run an extra thread on it, you share components, but you also have all the functional units at the bequest of that one thread. In a sense, they went back to square one, with the original Hammer processor."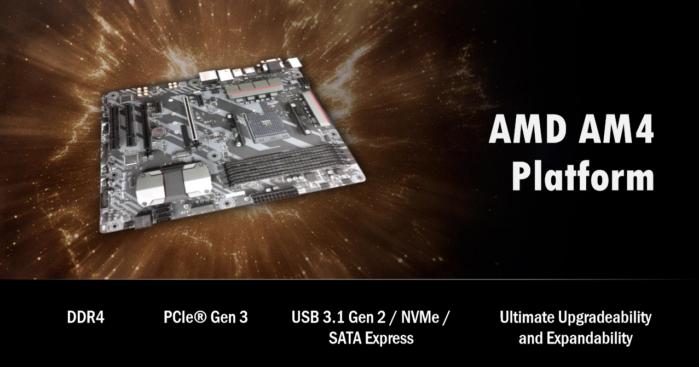 AMD
Yes, you'll need a new motherboard to use Zen, but here's what it gets you.
In three demonstrations—using processor-intensive Handbrake, Blender, and ZBrush benchmarks—the 3.4GHz Summit Ridge (with boosting turned off) either met or exceeded Intel's 3.2GHz 6900K, which can boost to 3.7GHz. In Blender, AMD's chip consumed 187.6W under load, while the Core i7 consumed 191.8W.
Update: The 8-core, 16 thread Ryzen chip will also pack a far lower TDP than Intel's 8-core, 16 thread chip, at 95 watts versus 140 watts, CEO Lisa Su said during AMD's New Horizon event on Tuesday.
A closer look at Zen's gaming performance
For further convincing, we were shown Ryzen's performance running DICE's shooter hit Battlefield 1—and Ryzen still held up, big time.
The 3.4GHz Ryzen system we saw contained a custom AM4 motherboard that probably will never see the light of day, plus 16GB of RAM and a pair of Nvidia Titan X cards. Yes, Nvidia cards—AMD representatives explained that they wanted to show how AMD and Nvidia technology could be mixed and matched, and that Ryzen could handle any gaming configuration you threw at it. On the other side was the same Intel Core i7-6900K AMD used for the Blender demo, with an Asus ROG X99 board, and 32GB of quad-channel memory, just to avoid claims that it was running with a subpar memory configuration.
Previous Page 1 2 3 4 5 Next Page