AMD Radeon RX 460 review: An affordable graphics card with bleeding-edge tech
The AMD Radeon RX 460 graphics card is built for e-sports and low-power systems.
But what about memory capacity? The Radeon RX 460 comes in two variants, a 2GB model and a 4GB model. More specifically, the custom XFX design today costs $120 with 2GB of memory, or $150 with 4GB. If e-sports is your core focus, stick to the 2GB model. All the most popular e-sports games are designed to use under 2GB of memory, and the price is right on the cheaper XFX Radeon RX 470 model, with a reasonable $10 markup for the custom cooler and performance-boosting extras.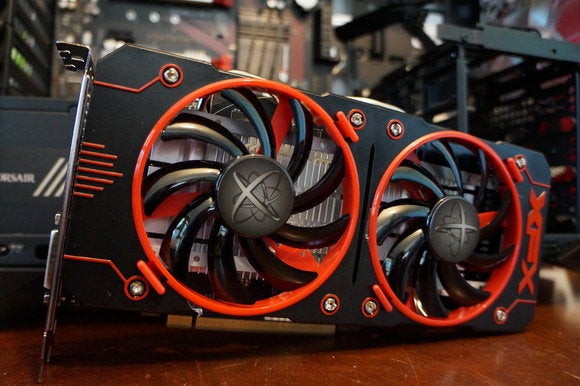 The 2GB XFX Radeon RX 460 earns our buying recommendation; the 4GB version doesn't. Credit: Brad Chacos
Only consider the 4GB Radeon RX 460 if you want the potential to play traditional games like the ones in our test suite, albeit at modest graphical fidelity. That said, XFX charges a steep price premium for the extra memory capacity. We've heard from other manufacturers that plan on charging $120 for their custom 4GB RX 460 models, and even less for 2GB variants, though we haven't had a chance to test those rivals yet.
If you're willing to spend $150 on a graphics card, you'll get more oomph from a GeForce GTX 950, or much more oomph from a Radeon R9 380, which was a $200 graphics card out of the gate but can now often be found for $155 or less on Newegg after rebates. All those step-up options are limited to 2GB memory capacity, and the R9 380 demands two six-pin power connectors and much more energy overall, but they still outpunch the 4GB XFX RX 460 by a healthy margin for roughly the same price. The GTX 950 even uses roughly the same amount of power as the six-pin-enhanced XFX Radeon RX 460, and can often be found for RX 460-level prices after rebates.
The 2GB Radeon RX 460 is clearly the sweet spot for these XFX models, and the one that best fits the card's intended role. It's hard to recommend the 4GB XFX Radeon RX 460 given its high cost in a price-sensitive market segment, even though it's a well-designed card overall.
In the end, the Radeon RX 460 provides AMD with something it hasn't had in years: an affordable, power-efficient graphics card perfect for e-sports and home theater PCs. Polaris is paying off big-time. Though Nvidia will no doubt launch a GeForce rival to this in due time, I imagine AMD's going to sell bucketloads of RX 460s around the globe.