Amazon Fire TV Stick review: Getting what you paid for
As streaming apps get more advanced, Amazon's low-cost TV dongle doesn't feel future-proof.
Searching for app support
Since last fall, Amazon has bundled a voice remote with the Fire TV Stick for $10 more than the standard package. It's an option worth taking, if only because the voice remote's contoured design is sturdier and more comfortable than the standard remote. Voice search is also useful for navigating Amazon's massive catalog of movies, videos, and music.
As with the main interface, however, the usefulness of voice search quickly tapers off when you're not consuming Amazon content. Amazon's product page for the Fire TV Stick lists Hulu, Vevo, HBO Now, HGTV, and Showtime as working with voice search; I've also had luck with HBO Go, Showtime Anytime, and Crackle. Still, there's no support from Netflix, the vast majority of TV Everywhere apps, or lesser-known apps like SnagFilms. Other devices such as Roku and Apple TV have jumped ahead in getting third-parties on board.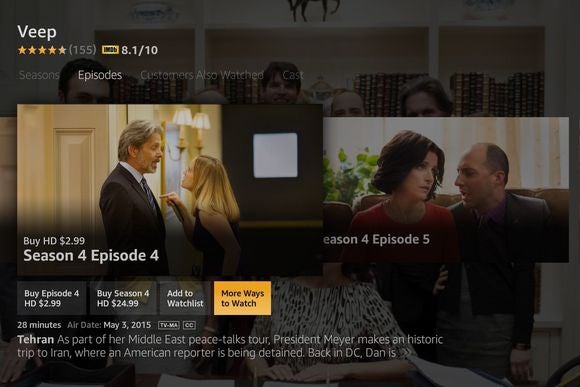 The Fire TV Stick's search listing for Veep obscures the fact that HBO Go offers episodes free to cable subscribers.
Even when voice search does support a third-party app, this fact is often hidden behind a "More Ways to Watch" button, while rental and purchase options are advertised up-front. It seems Amazon is more interested in peddling its own on-demand sales and subscriptions than informing users about potentially free alternatives.
Speaking of Amazon services, the Fire TV Stick's voice remote does have one noteworthy trick: You can use it to summon Alexa, the same virtual assistant that lives inside Amazon's Echo speakers. Through Alexa, you can ask questions, control your smart-home devices, play music from streaming sources like Pandora, and order stuff from Amazon. It doesn't feel quite as magical as the Echo without the hands-free element, but it's nice being able to confirm a Prime order and see the full box score of a baseball game on the big screen.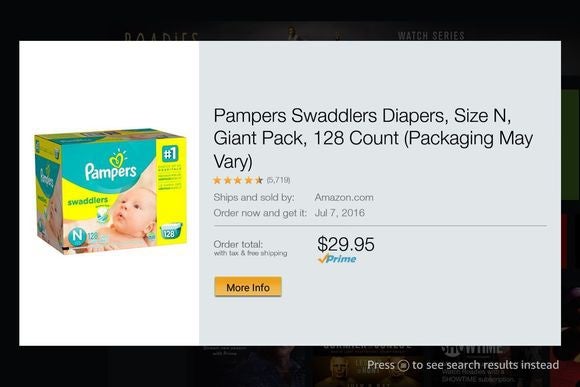 Buying diapers from your TV has never been so easy.
Taking stock of the sticks
Should anyone buy the Fire TV Stick? Maybe, if you're looking to spend as little as possible for the best experience with Amazon Prime Video. Just keep in mind that the Fire TV set-top box is a much faster and more capable device. It'll cost more up-front, but won't be screaming for replacement any time soon.
On the cheaper side, the new Roku Streaming Stick (model 3600R) is a better all-around choice. Not all of its apps are as pretty as their Fire TV counterparts, but they're less prone to performance hang-ups. Google's Chromecast is a fine alternative as well, provided you're happy to use your phone, tablet, or laptop as the remote control. Because all the app navigation happens on a secondary screen, performance is likely be a non-issue, and it only gets better as you upgrade to newer and faster phones.