Amazon Fire TV Stick review: Getting what you paid for
As streaming apps get more advanced, Amazon's low-cost TV dongle doesn't feel future-proof.
When Amazon first launched the Fire TV Stick in late 2014, it almost seemed too good to be true.
The thumb-sized device promised more power than the latest Roku box and a better app selection than Apple TV at less than half the price of either. It was only a little pricier than Google's Chromecast dongle, yet it managed to include a proper remote control and on-screen interface. Despite some early launch bugs and quirks, it was a great way to make your TV smarter on the cheap.
Cut to 2016, and the competition has gotten tougher. Roku has refreshed its entire hardware line, including the new Streaming Stick, making everything much faster. And while Chromecast has only seen minor hardware improvements, the remote-free approach has allowed it to stand the test of time in any living room.
Meanwhile, time hasn't been kind to the Fire TV Stick ($40, or $50 with voice remote. Available on Amazon and elsewhere). While many of its initial headaches have cleared up, it no longer seems well-equipped to handle modern streaming services. At best, it's a cheap path to Amazon Prime video on your TV, but it desperately needs a hardware refresh.
Prime priorities
Above all else, the Fire TV Stick feels optimized for watching Amazon Prime videos. Unlike other media streamers, Fire TV devices don't have a dedicated Amazon app. Instead, Amazon videos are directly embedded on the home screen and are typically among the top results in search. Because of this—ahem—prime placement, you'll probably get sucked into watching lots of Amazon content.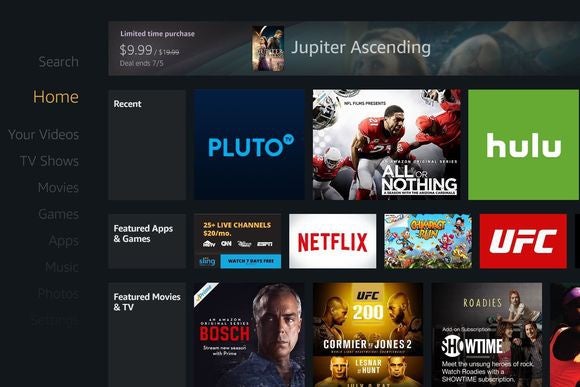 Compared to the Fire TV set-top box, the Fire TV Stick intensifies this effect. Jumping into Amazon content feels fast and easy, but accessing other apps feels tiresome because the processor is slower. Click down to the Apps section, for instance, and you'll likely have to wait a few seconds before everything loads.
Using those third-party apps can be even more frustrating. Processor-intensive apps such as Sling TV and PlayStation Vue can take more than 10 seconds to load, during which time the Fire TV Stick may treat you to a blank screen. In these moments, you might wonder if the device has crashed. Interaction within apps can be sluggish as well, with bits of stutter and lag that add up to frustration over time. (Tubi.TV is a particularly egregious example, as its attempts to load cover art along with each film makes the Fire TV Stick freeze up with every click of the directional pad.)
One other performance problem: The Fire TV Stick only handles video at 30 frames per second, which means you don't get smooth motion in sports programming from PlayStation Vue and MLB.TV. Google's Chromecast and Roku's Streaming Stick have no problem supporting 60-frames-per-second video.