Altec Lansing Mini Lifejacket III review: This rugged Bluetooth speaker isn't just water resistant, it's fully submersible
With just enough top-end sparkle to keep things clear, the MIni Lifejacket III is the best-sounding waterproof Bluetooth speaker we've heard.
Beyond outstanding fidelity, the Mini LifeJacket III delivers the most-wanted assortment of portable speaker features. There's a micro-USB port for charging the unit, an 1/8-inch stereo aux jack for analog input signals, and a full-sized USB port that you can use to charge other devices from the speaker's battery. Please note that those jacks, and consequently the unit itself, are only waterproof if you keep the rubber cap fitted over them. Said cap is snug, and not particularly easy to pry open, but you've been warned.
Controls consist of an on/off/Bluetooth pairing button and volume up/down buttons that can also be used to switch tracks if held continuously. I did have a problem getting the Mini LifeJacket III to show up for pairing initially. This is hardly a first when it comes to me and Bluetooth, so it may well have been user error or my rather unique talent for making products misbehave. After about three tries, everything was hunky-dory.
One thing that sets the ruggedized Mini LifeJacket III apart is its universal bolt-hole hard point and a bag full of hardware that can be used to attach it to, say, your bicycle's handle-bars. Just as in the photo below. Cool if you're not peace-seeking hikers looking to commune with nature's symphony.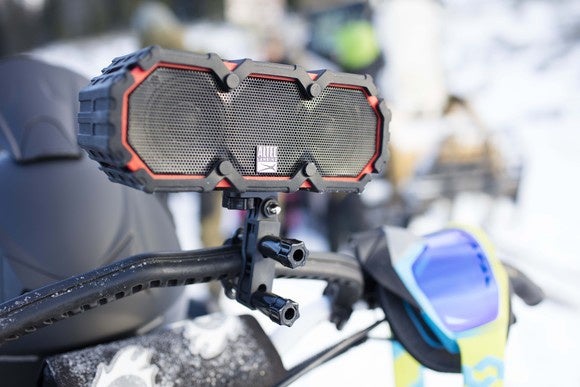 The Mini LifeJacket III comes with hardware and features a hard point that allows you to mount it to handlebars, a tow-rope handle, or what have you (the speaker in this photo is actually the older Mini LifeJacket 2). Credit: Altec Lansing
Altec Lansing claims 10 hours of battery life, and I got about eight, although I spent a lot of time fussing about with it and pairing it with various tablets and phones. Mileage will vary but it lasts quite a while. Did I mention that our test LifeJacket III plays Wagner when it's paired and your phone rings? "Ride of the Valkyries."
Check it out
As with anything audio-related, it's about sound, and taste is personal. But Altec Lansing's slogan is "Just Listen", and while marketing phrases are generally meaningless, I think you should give the company and the Mini LifeJacket III a chance. I think you'll like it.