Altec Lansing Mini Lifejacket III review: This rugged Bluetooth speaker isn't just water resistant, it's fully submersible
With just enough top-end sparkle to keep things clear, the MIni Lifejacket III is the best-sounding waterproof Bluetooth speaker we've heard.
I've been a fan of Altec Lansing most of my life, largely stemming from the sonority of the company's 15-inch 421A speakers that were a preferred woofer and bass guitar speaker for quite a while back in the '60s and '70s.
Whether that Altec Lansing company really has anything to do with today's entity, I can't tell you, but I do like the sound produced by its $100 Mini LifeJacket III. Rather a lot, I must say. This is a ruggedized and waterproof Bluetooth portable speaker with an IP67 rating, meaning it's impervious to dust penetration and that no harmful amount of water will enter its enclosure when submersed in water down to one meter.
Fidelity
Nearly all the portable Bluetooth speakers I've tested have noticeable hot or dead spots frequency-wise. Some accentuate bass, some the mid frequencies, some lack top-end, and so on. The Mini LifeJacket III sounds relatively flat throughout most of the spectrum, with just enough extra top-end to give it some sizzle. There's mild thump, but it's not over-emphasized and it leans heavily toward the low mid-range. That may make the kids sad; then again, perhaps they'll appreciate being able to understand the lyrics.
Indeed, one of the tunes I test with is "Renegades," by the X Ambassadors (you've probably heard it in a Jeep commercial). It's a song I had a tough time deciphering the words to when I first heard it. Why on earth you'd write a super-catchy song with a universal theme, then stunt the message by calling out Stanley Kubrick and Steven Spielberg as prototypical renegades, I have no idea. But it's easy to hear the band do that on the Mini LifeJacket III.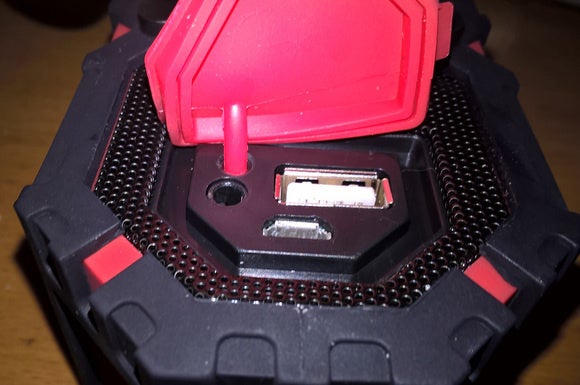 You can use the Mini LifeJacket III's USB jack to charge your smartphone using the speaker's battery. The mini USB port is for charging, and the 1/8-inch aux jack is for analog sources. Credit: Jon L. Jacobi
One thing that just about every Bluetooth speaker lacks is stereo separation, and the Mini LifeJacket III is no exception. Unless you want a portable speaker that's three-feet wide, it's part of the design tradeoff. The Mini LifeJacket III, however, supports True Wireless Stereo (TWS) pairing. TWS means you can buy two of these speakers and use one as the left speaker and one as the right speaker of a stereo pair. Altec Lansing sent me only one Mini LIfejacket III, so I didn't have a chance to test this; but with the other implementations I've heard, it makes a huge difference. How could it not?
Ports, controls, and extras