3D printed skin holds promise for burn victims and others
The 3D printer is about the size of a microwave oven.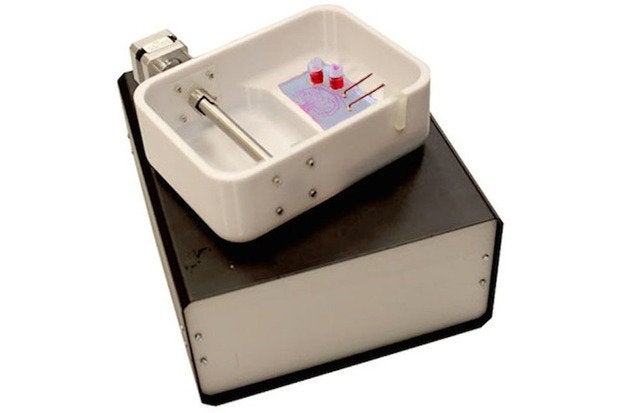 About the size of a standard microwave oven, the PrintAlive Bioprinter places a patient's own grown cells along with other biomaterials into a micro-device, which then pushes them out through several channels. Credit: University of Toronto
A 3D printer that can use a patient's own cells to print skin grafts, including hair follicles and sweat glands, has won a scientific design competition.
While still in pilot mode, the PrintAlive Bioprinter is in the process of being commercialized by MaRS Innovations in collaboration with the Innovations and Partnerships Office (IPO) of the University of Toronto, whose labs have filed two patents on the device.
Four University of Toronto engineers created the printer, which is about the size of a standard microwave oven. Last week, the machine won the James Dyson Award for student design, setting the stage for the group to compete for a $60,000 international prize.
The PrintAlive Bioprinter has been able to create uniform, large-scale engineering of tissue, which could be used to treat burn patients and other injuries.
The engineers who designed the printer include associate professor Axel Guenther, associate professor Milica Radisic, and graduate students Lian Leng, Boyang Zhang, and Arianna McAllister.
"There's a lot of interest in soft materials, particularly biomaterials," Guenther said in a university news release. "But until now no one has demonstrated a simple and scalable one-step process to go from microns to centimeters."
Along with producing skin cells, the machine can also produce hair follicles, sweat glands and other human skin complexities, "providing an on-demand skin graft for burn victims," the university stated.
Because the machine uses the patient's own cells, which are grown in a petri dish and then printed to form a bandage, it "would completely eliminate immunologic rejection, and the need for painful auto-grafting and tissue donation," McAllister said in a statement.
3D bioprinting an up and coming market
The University of Toronto is not alone in using 3D printing technology to create human tissue. Other university researchers and private companies are developing printing technology that could someday be used to replace organs and other body parts.
San Diego-based bio-printing company Organovo expects to unveil the world's first printed organ -- a human liver -- this year.
"We remain on track to launch our human liver tissue for use in drug discovery and medical research applications later in 2014," Michael Renard, Organovo's executive vice present of commercial operations, wrote in an email to Computerworld.
Like other forms of 3D printing, bio-printing lays down layer after layer of material -- in this case, live cells -- to form a solid physical entity (tissue). A major stumbling block in creating tissue continues to be manufacturing the vascular system needed to provide it with life-sustaining oxygen and nutrients.