Upthere hands-on: Promising sync-free cloud storage for Mac, iPhone
Currently in public beta, Upthere is a sync-free cloud storage service for photos, videos, music, and just about anything else on OS X, iPhone, or Android.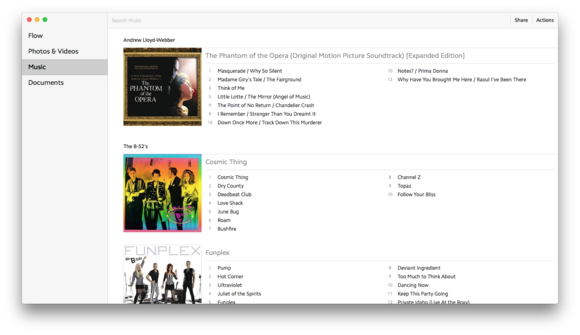 Music is sorted only by artist on Upthere Home for Mac, but users can find albums or songs in a snap via search.
On a 5 Mbps broadband connection, it took most of the weekend to upload more than 18,000 photos, around 30 videos, and my nearly 71GB iTunes library from a MacBook Pro running night and day. The Mac uploader completely locked up on several occasions, but I was able to pick up right where I left off after the software rescanned the connected application libraries (15 to 20 minutes in my case). Although photos displayed just fine, videos wouldn't play at all unless downloaded first, which kind of defeats the purpose of using a cloud service.
Your cloud camera
On the surface, Upthere isn't significantly different from rival services—in fact, it's downright underpowered in some ways. On the Mac, there's no central folder for syncing files like iCloud Drive, Dropbox, or OneDrive, and desktop content can't be mirrored like SugarSync or Bitcasa either. This is by design: Upthere was designed as a central cloud repository for all of your files.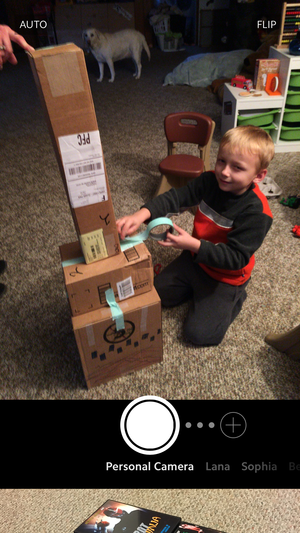 Upthere Camera for iPhone offers a simple way to snap pictures that bypass device storage and go straight to the cloud instead.
Although Upthere Home can be configured to automatically upload Camera Roll images, new photos can also be taken with Upthere Camera, which pushes full-resolution images straight to the cloud. None of the apps offer built-in image editing, although users can view metadata such as time/date and location. There's also an option to store new photos in your Camera Roll, but this has to be turned on prior to taking pictures or they'll only appear in the cloud; in my tests, Upthere Home was smart enough to skip any duplicates that exist in both places.
The concept of a cloud camera isn't particularly new: StreamNation has offered an unlimited, free storage in its Shutter app for several years. What makes Upthere Camera unique is the ability to take photos directly into existing Loops. Create a new shared camera (or swipe to select an existing one), snap a picture, and it's instantly shared with everyone in that group.
Other than this neat trick, Upthere Camera is a no-frills affair—so basic, in fact, I'm surprised the developers didn't roll its functionality into the Upthere Home app like they did on Android. For now, Upthere Camera doesn't shoot video (although Upthere Home will upload anything shot with the built-in camera app), and neither iPhone app works natively on iPad at this time; support for additional platforms is planned.