Upthere hands-on: Promising sync-free cloud storage for Mac, iPhone
Currently in public beta, Upthere is a sync-free cloud storage service for photos, videos, music, and just about anything else on OS X, iPhone, or Android.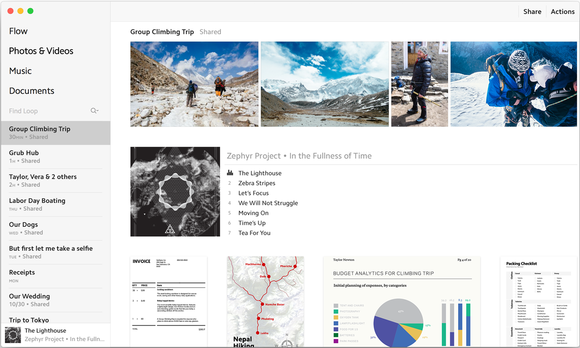 Like it or not, cloud storage is the future, despite the fact that even major players with deep pockets haven't quite nailed it yet. Now that Dropbox has come down to Earth on pricing and capacity, it's generally considered superior to competing services from Amazon, Google, and Apple—and don't even get me started on Microsoft, who recently reneged on its promise of unlimited storage for Office 365 subscribers.
Last month, a new player named Upthere burst onto the scene offering an alternative, sync-free "cloud computer." Currently available free with unlimited storage while in beta (the company has yet to announce pricing), Upthere does have at least one ace up its sleeve: Founder and former Apple vice-president Bertrand Serlet, who worked as software engineering lieutenant under Steve Jobs for more than two decades.

Sharing is a snap from Upthere Home for Mac, including the option to make content viewable on the web to anyone with a link.
I managed to get in on the beta and spent a couple weeks putting Upthere through its paces. While not yet as robust as other cloud storage players, the service shows plenty of promise—but without a sync component, it could wind up hamstrung by data caps and a lack of fast, ubiquitous internet.
Home on the cloud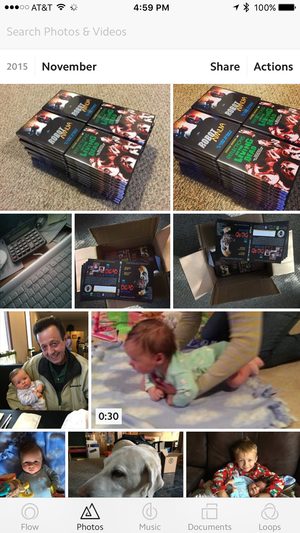 Upthere Home for iPhone is nearly identical to the Mac version, including a unified view of photos and videos.
Upthere is currently accessible from Mac or a trio of mobile apps. The OS X client, Upthere Home, monitors Photos, Aperture, Photo Booth, or iTunes libraries for new content and uploads it automatically; there's also an iPhone version that does the same for your Camera Roll, a companion Upthere Camera app for direct uploading of photos as they're shot, and a unified Home & Camera app for Android.
Upthere Home splits uploaded content into four areas: Flow, an activity monitor for files that have been added or shared; Photos & Videos, which displays both media types in one consolidated view; Music, sorted strictly by artist name; and Documents, where you can drag and drop files such as documents that don't fit into other categories. Uploaded files remain private until shared with friends or family as Loops, which are displayed underneath the main categories on the Mac, or in a separate tab on mobile.
The all-white user interface is quite straightforward, intuitive, and easy to use; sharing requires only a name or email address. During the beta period, anyone you share with can also use Upthere free of charge. At launch, there's no web component, but shared photos can optionally be set to appear online from the Details tab, making them viewable to anyone with the public link.