These two startups are out to dethrone Slack
Different approaches, similar goal: foster better teamwork.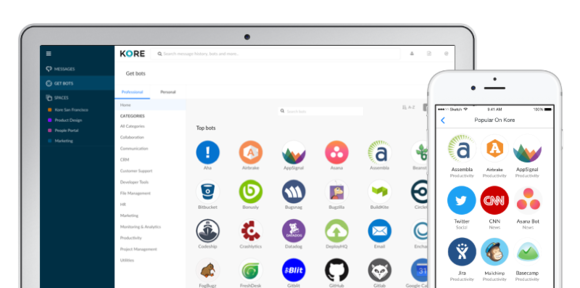 Kore comes preloaded with more than 100 'bots.' Credit: Kore
There's nothing like raging success to bring on a pack of competitors, and that's exactly what's now happening in the enterprise-collaboration arena.
Ever since the public launch of its team-communication software two years ago, Slack has taken enterprises by storm, propelled by its freemium business model and plenty of investor enthusiasm. Today, it claims 2.3 million daily active users, more than 675,000 paid seats and over US$64 million in annual recurring revenue.
Other companies smell opportunity.

Two new contenders entered the scene this week, both hoping to claim a piece of the pie for themselves. On Wednesday, it was SpotCues with what it calls the industry's first location-based contextual social network. On Thursday, Kore debuted a "bot-based" messaging platform.
Different approaches, same general goal: doing Slack one better.
"What Slack has done is make this market extremely visible," said Adam Preset, a principal research analyst with Gartner. "Competitors are calculating whether Slack will own that entire market and placing a bet that individuals, teams and enterprises might want something different."
SpotCues' bet is on technology that uses Wi-Fi or geofencing to create a social network at any location, allowing users to join the network in real-time, interact with mobile users near them and access location-specific apps. SpotCues is launching into large businesses first with a focus on connecting and engaging employees, but it also plans to expand into other organized communities.
"Enterprises have long desired a culture-building tool designed specifically for social collaboration using mobile phones," said Praveen Kanyadi, cofounder of the company.
Kore, on the other hand, has focused on "bots," or lightweight programs that connect with third-party apps and business systems via APIs. Essentially, the bots let users communicate with apps and business systems through the same interface they use to chat with coworkers. More than 100 prebuilt bots come included, offering integration with a variety of enterprise software. Kore and SAP are also collaborating on more.
Kore promises to marry team communications and business systems "in a simple, modern interface that people will love," said Raj Koneru, the company's CEO. In addition, Kore gives CIOs the "control and security they need," he added.
While much of the rhetoric today is about Slack because of its early emergence as a de facto leader, "the target is actually this issue around team communications," said T.J. Keitt, a senior analyst with Forrester.
It's a big issue for enterprises. The market for the broader category of unified communications is about $42 billion worldwide, Gartner's Preset said. "That's a huge market. The messaging piece of it is relatively modest, but even a modest portion is a good amount."