The IT leaders wish list for 2016
Ring in the new year with cloud adoption, hyper-convergence in the data centre and IT talent with killer business acumen. Here are six technology advancements our experts want for the holidays.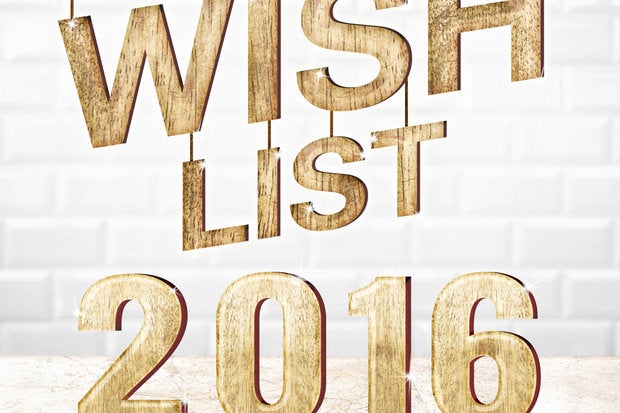 Besides peace on earth and an unlimited IT budget, what's on CIOs' wish list for 2016? We asked three experts what they'd love to receive for the new year.
1. Flexible systems
"Greater systems flexibility. Meaning systems that are more highly configurable and thus require less coding and/or testing; are loosely coupled, so a change to one minimized changes in others; a highly connected environment where the plethora of solutions is invisible to users; and one that empowers users to make the changes they want." --Steven Marenakos, senior vice president, service and systems solutions, Prudential Annuities.
2. IT talent
"IT professionals with strong knowledge of, and relationships with, the business and big-picture strategy." -- Marenakos
"Right now, we need dynamic people who can wear many hats that aren't role-specific. We're attempting to reduce silos so that people are cross-functional. Finding a server administrator, or a Microsoft Exchange expert is much easier than finding someone with multiple skillsets -- but I know they're out there!" -- Warren Perlman, CIO, Ceridian.
3. Data and integration tools
"WebMethods, Tableau and Cognos [SaaS and software packages] for advanced integration and data analytics." -- Glenn Siegmund, CIO, Prudential Annuities.
4. Improved data response rates
"We're already starting to improve these using SQL Server and enhanced caching using SSDs. We're also looking at nontraditional solutions like Hadoop and ways to pull data sets to make them more accessible." -- Perlman.
5. Greater cloud adoption
"Hybrid cloud is going to see immense growth in 2016, especially around disaster recovery and backup. We have taken core data center applications into the cloud, and our research and development applications there, too, and we want to see more of that." -- Perlman
6. Hyper-convergence
"Taking compute hardware in a 2U or 4U configuration -- all the servers, CPUs, configurations and virtual machines -- and combining them into one monster operating environment in such a small footprint; this is the best thing since sliced bread!" -- Perlman