Startups boldly challenge Internet, mass transit & password status quo
TransitX, TapLink & LBRY among startups making their cases on Mass Innovation Nights in Boston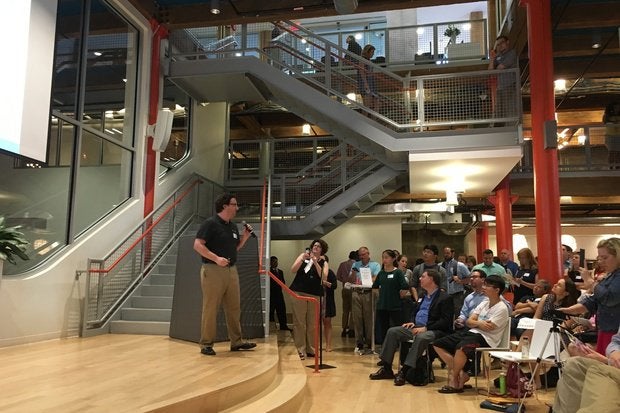 One startup pledged to "make passwords impossible to steal." Another promised technology to "absolutely change the face of the Internet itself!" And an asphalt-hating CEO said his outfit's zippy overhead pods will be a green replacement for gas guzzling vehicles in big cities within a couple of years.
The 88th edition of Mass Innovation Nights on Tuesday gave the stage - at host LogMeIn's airy Boston Seaport digs - to an idealistic handful of startups unfettered so far by venture capital and repetitive marketing lingo (I only heard the dreaded word "journey" once!). The founders eagerly answered questions posed by attendees - including precocious teens on summer break -- and collected certificates earned for winning a popular vote among audience members.
These are the upstarts greener even than those at the more common dog-and-pony shows highlighting freshly funded newcomers angling for their next financing round or even an IPO or buyout. Emcee/organizer Bobbie Carlton calls MassInno a "visibility event" that has launched almost 900 companies over the years.
Tuesday night's grand winner -- TransitX -- is led by MIT-schooled Mike Stanley, who has a grand plan for building a clean energy-powered personal mass transit system of elevated pods that cruise from 45mph locally to 135mph over rail lines and highways in the name of less expensive, more efficient travel. Stanley says eight cities, towns and universities have come forward with letters of support for the system, which he asserts would be profitably sustained via fares.
Stanley, who sported a "Car Free" button on his purple polo shirt, is sticking with his story that he was inspired to start the company after Boston's notorious winter of 2014-15 crippled the local mass transit system and had his wife trudging miles through the snow, though he says the general concept has been around since the early 1950s. He has scored seed money via crowdfunding, and expects to pay for build-outs in Boston-area cities such as Chelsea and Everett using privately-raised monies - unlike the publicly-funded extensions planned for Boston's MBTA that could cost $500M per mile. TransitX will cost closer to $10M per mile, Stanley claims.
TransitX is shooting to have a full-size and portable test system up and running in a year and a half, and to have a full-blown system in production in two years.
LBRY: YOU'RE IN CONTROL
Vowel-challenged startup LBRY is addressing issues with a different sort of highway - the Information Superhighway -- by delivering a "YouTube, but entirely controlled by and run by its users."
Co-founder and CEO Jeremy Kauffman, who tossed T-shirts to audience members during the Q&A following his pitch, says LBRY is a decentralized and open source platform (grab code on GigHub) designed to enable content producers to create and share their stuff online on their terms, without worry of censorship or of middlemen taking a cut. Daringly, he demoed a live-streamed a clip from a film called "It's a Disaster," to show off the network.