'Productive' PCs head Ballmer's list of what Microsoft must do right
Microsoft chief executive Steve Ballmer talked candidly about what he and Microsoft need to achieve before he steps down next year. And a key, he said, is understanding the changing role of the PC.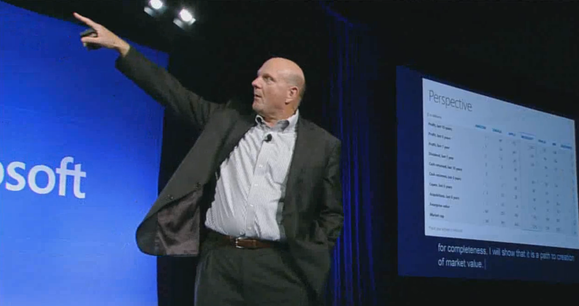 Microsoft chief executive Steve Ballmer may have several months before he actually steps down, but his candid assessment of the future of the PC and of Microsoft felt like the first words of a long goodbye.
Ballmer concluded Microsoft's 2013 analyst meeting as a shareholder, not as a chief executive, promising to root for the company in the years ahead. Ballmer owns about 4 percent of Microsoft, by his own admission.
"I am very long in Microsoft," Ballmer said. "I believe in the company as an investment. I believe in what the company can do. I believe in the people and talent that are here and at least this one shareholder will absolutely be cheering every day from the day I'm not working here on, I'm MSFT,' if you will, all over. It's in my blood, in my heart and I'll have been glad to have served."
At one point, he urged all of the Wall Street investors in the audience to stand up and cheer for Microsoft's stock. "You all own Microsoft stock. Cheer for it. We all want it to go the same direction, up." None of the analysts appeared to take Ballmer up on his offer, however.
If the PC is dying, what then?
The problem that Microsoft faces, Ballmer acknowledged, is that one of the fundamental pillars of the company—the PC—is slowly weakening. Microsoft hopes to replace it by moving Windows to a new generation of tablets, while making the "traditional" PC a vehicle for productivity. How Microsoft will weather those changes was the focus of Ballmer's presentation Thursday.
"Windows has some challenges," Ballmer said. "For the first time over the last couple of years, Windows has done something other than just grow," specifically, as PCs have dipped over the past couple of quarters, and Microsoft's Windows 8.1 won't be able to reverse the trend, analysts say.
"We must do the job to ensure that the PC stays the device of choice for people when they're trying to be productive in life," Ballmer said—a shift most noticeable in the change of tone in the company's advertising for its Surface tablet. Although instruments of productivity, those tablets will fragment into smaller, entertainment-focused devices, Ballmer said.
"[W]e're going to have to put time and energy not only into Windows PC but into brand Windows' overall," Ballmer added. "Our device brand more than anything is brand Windows': Windows phones, Windows PCs, Windows tablets."
Four things that Microsoft must do right
Microsoft executives previously outlined four core principles upon which Microsoft can build its business: the cloud, social, mobility, and Big Data. Ballmer went a step farther, describing four things Microsoft must do right if it wants to remain in business: