Microsoft's Nadella preaches productivity to partners
Microsoft's new chief executive Satya Nadella elucidates his vision of platforms and productivity at Microsoft's partner conference, with hints of changes to Windows and Office to come.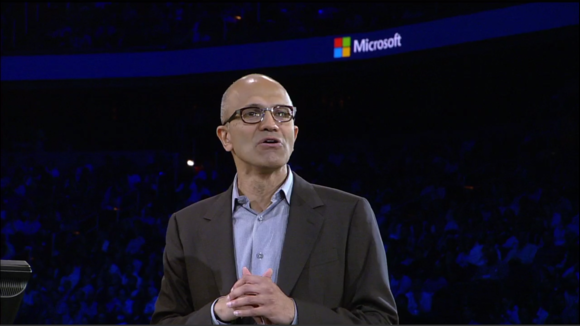 Microsoft chief executive Satya Nadella outlined his new vision for productivity Wednesday in front of thousands of the company's partners, pledging to make the Microsoft ecosystem as pervasive as possible.
However, Nadella and other Microsoft executives offered few updates on the company's direction, reiterating plans they'd announced before and recapping several products the company had shown previously.
There were a few exceptions: Tony Prophet, the corporate vice president of Windows marketing, held up an unnamed, Intel-powered, 8-inch Windows tablet from Toshiba that he said would be priced competitively with eight-inch Android tablets. Prophet also showed off a screenshot of the upcoming revamped Windows Start menu due in the next version of Windows, along with Modern or Metro apps that can run in windowed mode on the desktop. Nadella highlighted Project Siena, a beta app to let non-developers quickly create basic apps on the fly for mobile devices.

Microsoft's Tony Prophet holds an unnamed 8-inch Windows tablet from Toshiba.
Cloud first, mobile first
In general, however, Nadella elaborated on the strategy memo he issued last week: that Microsoft was the productivity and platform company for the mobile-first and cloud-first world, and what that would mean to its partners.
Nadella spoke eloquently and persuasively about his vision for Microsoft, appearing at times more politician than architect. "We are the company, we are the ecosystem that can harmonize the various intents of individuals, IT and developers, bringing them together so that we can achieve more and do more," he said.

ThyssenKrupp taps into real-time sensors inside its elevators, as well as Microsoft's machine-learning capabilities, to figure out when its elevators could fail and take action before they do.
On the other hand, Nadella also faces the unenviable task of taking a company built on selling discrete products like Word, Vizio, Outlook, and Azure, and tying them together into a services ecosystem more like Google's. "When it comes to digital work and life experiences, the thing that we are going to do is start by building great experiences individually--that means we are going to have fantastic email, great file sharing, great communication and collaboration" with products like Skype, Outlook, and OneDrive, he said.
But Nadella said it wasn't about those products--or, as he referred to them, as the "application silos." Rather, Microsoft's goal is to tie them together better.
"We are building out that digital infrastructure that ties together people, their activities, their relationships, to all of their artifacts of their life, whether that be photos or documents, at home or at work," Nadella said.