Kim Dotcom's 'Mega' storage service dumps its beta tag, picks up some new features
Almost a year after its debut, Mega.co.nz is still standing.
Early 2014: Encrypted everything
Mega also wants to release two long-promised features in the opening months of 2014: encrypted email messaging and encrypted real-time messaging.
Dotcom has said several times that he wants to turn Mega into a complete encrypted cloud service. In August, Dotcom promised messaging and chat would be coming following the revelations from National Security Agency leaker Edward Snowden.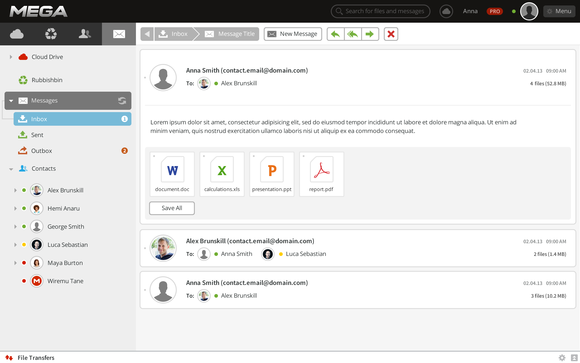 A mock-up of Mega's upcoming messaging feature. (Click to enlarge.)
There's little information about what the new two new services will be like. Based on mock-ups Mega released, it looks like the encrypted mail service will be an internal messaging service built into the current version of Mega. Right now, you can only send files to Mega users; messaging isn't supported.
The chat feature, again based on mock-ups, will be built into the web version of Mega and will support text and video chats. There didn't appear to be a Skype-esque voice-only option, but that could change once the product goes from concept art to actual product.
While Dotcom is busy building Mega, the extradition case against him is currently on hold. The trial is expected to get underway once again in April. The U.S. is asking New Zealand to extradite Dotcom stateside where he would face charges of criminal copyright infringement over Megaupload.