iOS 8 additions promise to streamline how you communicate and share
Due out this fall, Apple's latest mobile device promises a lot of new features and enhancements. Here are the ones that caught our eye.
iOS users will have plenty of new things to familiarize themselves with this fall. That's when iOS 8 arrives, and Apple's updated mobile operating system promises a slew of new features and enhancements that aim to help you communicate and share more easily.
While most of us will have to wait until the fall to really explore the many changes announced Monday during the Worldwide Developers Conference keynote, app makers and developers will get an early crack at iOS 8, with a pre-release version available now for anyone with a developer account. Here are the features we're most excited to see: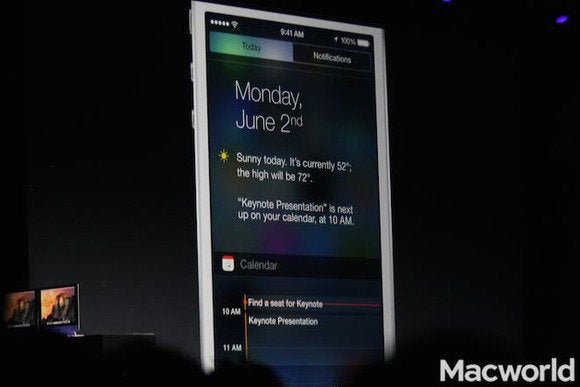 PHOTO: SERENITY CALDWELL. Changes to how you interact with Notifications highlight the new additions to iOS 8.
Notifications: Perhaps most notably, Apple introduced new interactive notifications that allow you to respond to alerts without having to leave the app you're in. Get a calendar invitation, and you can respond, all while continuing to compose that email or--more likely--play that mobile game. You can also interact with notifications from your mobile device's lock screen, swiping on a notification to deal with it.

PHOTO: SERENITY CALDWELL. The multitasking menu in iOS 8 adds contacts to the top of the screen, allowing you to communicate with them more quickly.
iOS 7 added the ability to double tap the home button to bring up a multitasking menu. iOS 8 adds most frequent contacts across the top of the multitasking menu, allowing you to quickly call, text, or FaceTime friends, family, or other VIPs.
Mail: Mail will get several new tools in iOS 8, starting with the ability to add an event to your calendar directly from within an email message. Mail now incorporates several new gestures into the interface, letting you swipe to flag, delete, or mark an email as unread. Dragging all the way across on a message will delete it from your mailbox.
Perhaps one of the coolest feature in iOS 8's Mail will be the ability to minimize drafts by swiping down. With this feature in place, you'll be able to more easily grab information from one message and put it in another.
Safari: The built-in browser for iOS is in line for a few updates as well. Safari's quick-glance tab view from OS X comes to the iPad version of the browser as will the just-announced sidebar slated for OS X Yosemite, which Apple also previewed on Monday.
Search: OS X's Yosemite update also inspires some new spotlight features in iOS 8. Searching for "Yosemite," for example, brings up the Wikipedia page for Yosemite, news, and all other kinds of relevant information.