Hybrid clouds are hot, SDNs and DevOps coming on strong
Some 80 percent of companies are building hybrid clouds, according to a survey of 3,000 architects and engineers conducted by F5 Networks. Many respondents are also considering building software-defined networks and implementing DevOps over the next two to five years.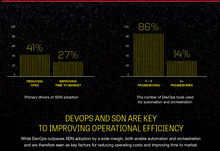 Some companies do anyway. F5 found that only 3 percent of respondents indicated they used an SDN in production today, while 39 percent did not plan to implement one at all. But 37 percent of respondents said SDNs will become strategically important in the next two to five years, with EMEA leading the way at 41 percent, followed by Asia-Pacific and the Americas at 38 percent and 29 percent, respectively.
Service providers, such as Verizon and AT&T, have been at the forefront of leveraging this emerging technology. But the vast majority of enterprises, including $28 billion Avnet, are only beginning to test such products in 2016, CIO Steve Phillips recently told CIO.com. Migrating to an SDN is no trivial task because you can't risk disrupting the existing network fabric on which the business operates. Moreover, many companies have already made significant investments in their networking infrastructure.
F5 also found that DevOps is emerging as an opportunity for companies to build software, using an automation, orchestration and programmable APIs, at a time when businesses are demanding crisper execution.
But it's early days, Triebes says. Only 17 percent of respondents say that DevOps will have a strategic impact within the next two to five years, but not too early for companies to dip a toe in this pool. Sixty-seven percent of respondents say they are using one or two DevOps tools to configure, deploy and scale applications. Of the 43 percent of respondents who view private cloud as important, 23 percent also say DevOps is significant. The reason? Security, says Triebes.
F5 software programmers use DevOps to develop the company's SaaS security app within the company's hybrid cloud. "It's pretty much a classic model for DevOps, but it's entirely hosted on our own infrastructure," Triebes says. But as the relatively low adoption rate for DevOps suggests, the method involves a lot of challenges that companies are still working out.