How to survive inevitable cloud failures
Sure, the cloud delivers awesome benefits like file synchronization, Netflix, and Gmail. But you'd be an idiot to rely on it completely. Here's how to mitigate the biggest risks associated with the cloud.
Few people are as thoroughly engulfed in the mishmash of online-only services collectively dubbed "the cloud" as I am. Being a modern, always-mobile technology writer, I've arranged my workflow to be completely independent of my physical location. I need the ability to plop down in front of any computer in the world, and suffer from minimal disruption.
Most of my work is stored in SkyDrive. I coordinate story assignments with coworkers using Google Docs, and live the rest of my life in Gmail, Evernote, HipChat, and Pixlr. Heck, I even subscribe to Slacker Radio and numerous video streaming services so that a world of entertainment is always just a URL away--complete with synchronized playlists and instant queues. (Yep, I'm a cord cutter.)
Now that the disclaimers are out of the way, let's turn to the nasty. Several incidents during the past week drove home a bleak realization: Yes, the cloud is flexible and powerful and paradigm-shattering--but you just can't rely on it completely.
Where's the Advil?
The headaches started last Friday when Microsoft's Windows Azure cloud service melted down for an extended period. That didn't bother me, personally--I'm not a business looking to "quickly build, deploy and manage applications across a global network of Microsoft-managed datacenters." Nonetheless, the outage soon spread to consumer-facing applications. Multiple Xbox features went down for the count: Cloud-stored game saves, Xbox SmartGlass, and even Halo 4's online functionality were disrupted for several hours.
If you were hoping to fill your entertainment void with an impromptu movie, you were also out of luck: Microsoft's Xbox Movie and Music services crapped out, too. And several users reported running into problems with Netflix the same day, though the problems weren't widespread.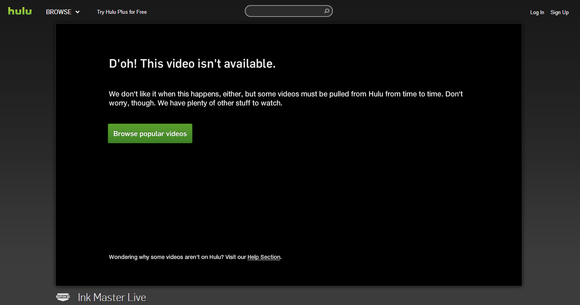 Microsoft wasn't the only source of my cloud consternation during the past week. After stumbling across Spike TV's Ink Master on Hulu Plus, I binged on the first season in just three days, and was eager to jump into the second season the next evening--only to find that the show had been scrubbed from Hulu's servers. Grrr.
Then, earlier this week, an enterprising TechHive editor was attempting to access his Gmail account from Mobile World Congress in Barcelona, only to find himself stymied for a short period. It was a temporary hiccup, but as anyone who's ever been on Twitter in the midst of a Gmail, SkyDrive, or Amazon Web Services outage can tell you, unscheduled downtime from a major cloud service provider can create a lot of grief for a lot of people.
Finally, to top it all off, Zendesk--a popular cloud-based support services provider--was hacked, leaking the email addresses and occasionally the phone numbers of Twitter, Tumblr, and Pinterest users. So even when the cloud was working this week, it wasn't keeping our data safe, and this wasn't the first time it happened.