How an innovative mobile app uses location to track events
In Part 2 of his series on Innovation and the Cloud, writer Bernard Golden looks at how the ability to detect events by parsing information organized by location rather than individuals could be a game changer for any number of different industries.
From eyes to feet (maybe even inches)
In this column, I want to discuss another company's offering and how it leverages cloud computing to disrupt current industry methods of operation, but also discuss its potential to disrupt market leaders and remove their current advantages. Moreover, this company has the potential to disrupt several industries, a couple of which are significantly larger than eyewear.
I came across this company called Banjo by accident. Its offices are located on a side street near a movie theater I often frequent. I saw the name and wondered what the heck the name Banjo might mean. An uber-specialized music store? A digital agency, since they all seem to sport unusual names used to exemplify their zany creativity?
I did a Google search and found out that Banjo – the brainchild of Damien Patton – is, in fact, a social media data-mining company that, rather than tracking an individual, tracks a physical place, through all the social media streams that emanate from it.
In other words, it's a "where," not a "who" system, and it automatically mines those streams to identify important events that subscribers are interested in. Banjo has subdivided the planet into football field-sized grids and established baseline social media streams for each (e.g., Times Square has lots of info on big billboards and pictures of the Naked Cowboy). The information these streams present may be text (a tweet that contains the word "fire"), photos (Banjo has image recognition capabilities) or video.
If the baseline stream changes significantly, Banjo identifies the anomaly and alerts customers who are tracking that grid location. By grabbing information posted by users on the spot, Banjo can identify important events far faster than traditional mechanisms (e.g., police radio transmissions from first responders). An example of this kind of speed advantage was how quickly Banjo identified a campus shooting, well before any "official" information became available.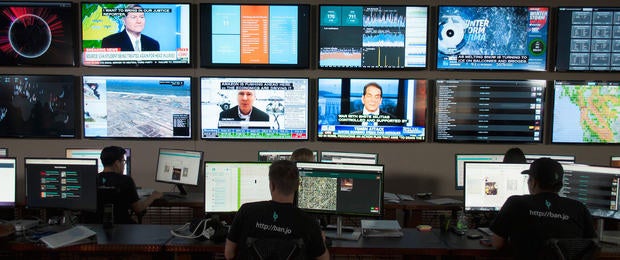 Banjo HQ's mission control parses information about places and events from all the social signals that emanate from it.
Early subscribers to the Banjo system are news organizations, who use it to identify breaking news locations. These organizations also use Banjo functionality, which presents the events in a timeline, to create broadcast montages of different posts, as well as contact individuals who have posted information.
In summary, Banjo uses social media mining to identify important events faster than current methods, which rely on sources – police and fire radio transmissions, calls to news desks from bystanders, and staff monitoring social media – to identify newsworthy events.
Social media god-mode?
Why do I say it's disruptive?
Previous Page 1 2 3 4 Next Page