Hosted bare metal emerges as alternative to IaaS cloud
When a VM in a public cloud isn't good enough, some turn to physical servers.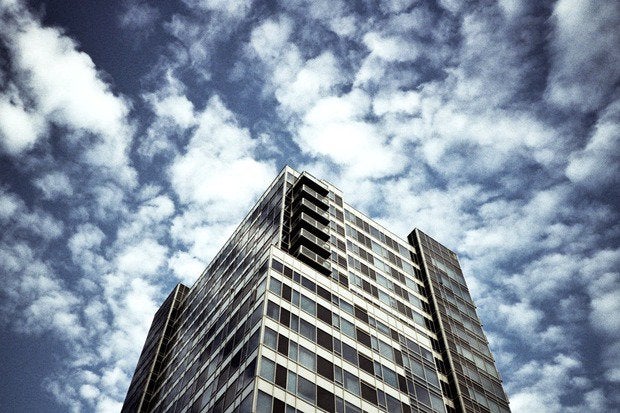 Credit: James Niccolai
AppLovin is a 4-year old marketing platform that places advertisements in mobile apps. And it's a data-intensive business to say the least.
When AppLovin learns of an advertising opportunity in an app, the company has 100 milliseconds to decide if it will bid on the spot in a real-time auction. If it wins the bid, it consults a database storing billions of user preferences to serve an ad personalized to that user. AppLovin processes about 30 billion to 50 billion actions per day, all of which need to happen in millisecond timeframes and on a global basis.
The company started as a customer of Amazon Web Services' IaaS public cloud. But in the past few years CTO John Krystynak – an early VMware employee - has moved AppLovin's operations to another platform: Hosted bare metal infrastructure.
Bare metal servers are non-virtualized compute infrastructure, meaning that unlike a public cloud there is no hypervisor that creates virtual machines. Through provider Internap, AppLovin's engineers can spin up as many bare metal servers as it needs, and it's not sharing any of that infrastructure with other customers in a public cloud.
"Once you get to a point where you're trying to optimize the infrastructure at a granular level, you really want to understand the whole infrastructure stack you're running on," Krystynak says.
AppLovin isn't alone in embracing hosted bare metal infrastructure. Earlier this year Forrester's Vice President and principle analyst for infrastructure and operations professionals Richard Fichera published a report titled "Consider bare metal as a viable cloud option." Many vendors have recently begun offering bare metal options, including IBM through its acquisition of SoftLayer, Rackspace, Internap, and others.
"Bare-metal clouds offer a way for I&O pros to deploy workloads that demand dedicated hardware for performance and isolation reasons with all the operational advantages of VM-based infrastructure-as-a-service cloud services," Fichera wrote in the report.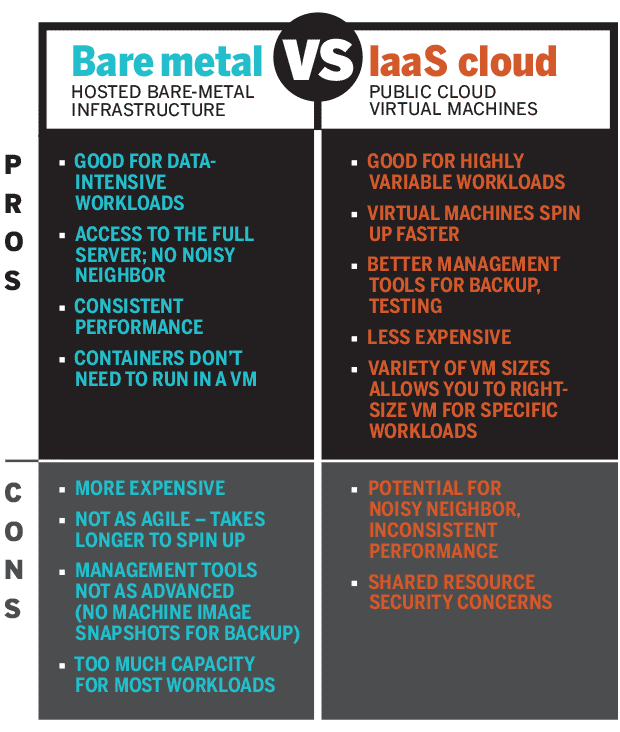 Click on image to enlarge. Credit: Network World
But as hosted bare metal has emerged as an attractive option, analysts don't believe they're a panacea that will replace IaaS. Instead, they encourage users to consider it another tool in the toolbox of enterprise IT.
Different use cases
Vendors typically offer hosted bare metal infrastructure similar to how IaaS cloud is consumed: Users access an online portal, request resources and pay for it by the hour or month. There are some important differences between IaaS and bare metal though. They're meant for different types of workloads.
Bare metal infrastructure is great for high-performing workloads that strain compute and memory capacity. VMs from a public cloud are great for highly variable workloads that spin up and down frequently. Neither is better than the other, they're just for different use cases.