Google Drive for Business boosts data retention features in crowded market
New discovery features could encourage big business adoption.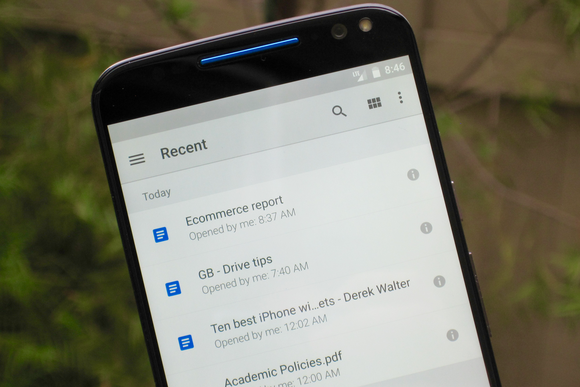 Credit: Derek Walter
One of the key ways of getting businesses to adopt new technology is to ensure that it meets with all of users' discovery and compliance requirements, including data retention and deletion.
If a company already deletes some or all of its data after a certain period of time, a new service needs to comply with that.
Google is better addressing that market with its own cloud storage and collaboration product, as a result of new changes announced Monday morning. Drive for Work now features deeper integration with Google's Vault data management and e-discovery service that allows for better retention and deletion of company data.
Once administrators set a data retention policy, files will be saved for a defined period of time inside Vault, even if end users delete them from their Drive. In addition, companies can set a policy to automatically delete files after they reach a certain age, and place a hold on some data so it's available if needed for a lawsuit.
End users don't have to do anything differently in order to take advantage of the capabilities, and the system is designed to be as invisible as possible when it comes to the end user experience.
"It's pretty much transparent in the sense that Vault, as its name suggests, is holding or expiring this content in its store," Scott Johnston, the director of product management for Drive, said in an interview. "And so you take something like [the legal hold feature], you're going to delete something, and Vault's going to hold onto it as long as needed, but that's not going to interfere with your workflow. It's like having an extra storage device sitting there, helping you retain things that need to be retained."
The new features match existing Vault features that allow for retention of chats and emails sent through Google's business products. For now, the new data retention capabilities are being rolled out to a limited number of users, with full availability planned for later this year.
In addition to the new features, Drive for Work has now been certified to comply with the ISO 27018 standard, which governs how companies handle the privacy of personal data stored in their cloud. In particular, the certification is designed to prove that Google isn't using company data for advertising in addition to taking other privacy measures like protecting businesses from third-party data requests.
Johnston said the ISO certification doesn't represent a policy change for Google, just an additional assurance that Drive for Work will keep users' data private. Because Google makes most of its money from tracking users' behavior and mining their emails to better serve ads, the company has to convince businesses that Drive is a private place to store things.