From Windows 8.1 to Surface 2 and beyond: What Microsoft's ecosystem needs to thrive
We look at the areas where each Microsoft product line needs to improve.
Microsoft's Surface 2 tablets finally go on sale today—so it's a good time to begin thinking about the real impact these devices will have on the greater Microsoft ecosystem. Indeed, ever since the tablets were introduced in late September, most people have been thinking about them the wrong way—the old way, considering them in isolation rather than as individual members of a cohesive team.
In fact, though, Surface 2 and Surface Pro 2 are elements of a greater plan that includes Windows, Windows Phone, Office, the cloud, and enterprise products. All of them work together to move Microsoft's ball down the field. So let's look at each product from that perspective—and explore the areas where each Microsoft product line needs to improve.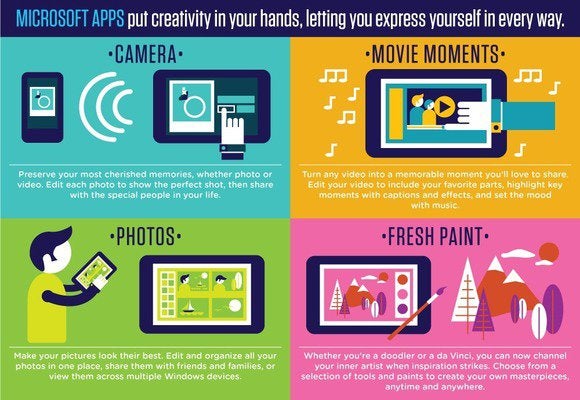 Microsoft's apps are designed not merely to lure you in, but to keep you in the Windows ecosystem. Click image to enlarge.
Windows
The Windows OS—whether for consumer PCs, enterprise PCs, tablets, or servers—is the nexus of Microsoft's new, unified ecosystem. It's our entry point into SkyDrive, Xbox Music, Bing, and other services that play key roles in Microsoft's grand scheme. Sure, in Windows 8.1, Microsoft added a number of features that make the OS easier to use. But even more important are the features that reinforce Microsoft's goals for its greater ecosystem.
When you're playing with the new Windows 8.1 update, take a good look at the improved Mail app, which filters out spam posts Microsoft doesn't want, and opens photos and Web pages within Microsoft's dedicated apps. Notice, too, Bing's new "smart search" feature, which crawls through local files and the Web—and cleverly conditions users to think of local files as being simply a cached version of the cloud.
Skype is now directly integrated into Windows as well, offering a path for the OS to become a full-fledged communications tool. And of course SkyDrive can intelligently sync all of your files in the cloud. It's a savvy play on Microsoft's part: When all your important data is backed up to the cloud—Microsoft's cloud—you become increasingly locked in to using Microsoft's services for everything.
So, that's where Windows is today—but in what areas does Microsoft need to improve? Apps, apps, apps.
Microsoft's Windows Store should try to sell me Call of Duty, and allow me to download it on every PC tied to my Microsoft ID. App descriptions should point out when complementary versions are available on Windows Phone and Xbox. Microsoft should incentivize developers to create their own ecosystems within the Microsoft environment. And Microsoft's dev teams should keep pumping out their own first-party apps, ensuring that they tie into other apps seamlessly and synergistically. Why don't I have the option of sharing an image I open with Photos, for example?