Free Google Drive tools you're not using (but should be)
Google Drive can do more than store stuff. Check out these tools for automatic backup, easy file sharing, collaboration, encryption, music, and more.
IFTTT's recipes cover most of the popular Web services. The developer adds new ones all the time, so it pays to check the IFTTT site frequently.
Open Drive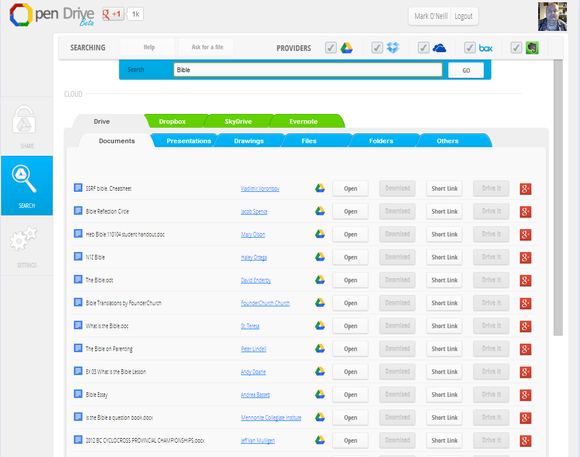 Open Drive makes normally hard-to-search Google Drive an open book.
Many Google Drive users allow public access to their files, which means you can use Google Drive as one huge file-sharing network. But while you can request a copy of a handy-looking file, you first have to know it's there. That's the tricky part.
Ironically for a company whose core business centers on search, you cannot directly search for anyone else's files within Drive, nor can you look for them effectively by using regular Google search. Mcom Multicartes created the Chrome extension Open Drive to provide a search interface for these public files so that you can find them more easily.
What's more, using Open Drive, you can also simultaneously search other cloud-storage systems (such as Dropbox, Skydrive Evernote, and Box) and have those files sent to your Google Drive account. The more cloud services you search at once, the longer it takes.
Once you get your results, you can download them, send them to your Google Drive, get a link to the document, or simply open what you find. If your search yields nothing useful, you can join Open Drive's Google Plus community to request what you need from other members.
As with any search engine results, there's some dross mixed in with the gold. That said, Open Drive found relevant files in most of my searches. And searching across so many cloud services at once in the same interface is addictively convenient.
Google Drive can be more than a file cabinet
There are all sorts of ways to supercharge your cloud storage and maximize your free cloud storage. As a devoted Google Drive user, however, I use these tools on a regular basis. They've got me covered when it comes to online file encryption, listening to music, searching for public files, automating my personal and professional life, and making snappy presentations.
Previous Page 1 2 3