Free Google Drive tools you're not using (but should be)
Google Drive can do more than store stuff. Check out these tools for automatic backup, easy file sharing, collaboration, encryption, music, and more.
DriveTunes is a basic player with just a play/pause button, a skip-track button, and a volume button. Don't expect anything fancy like album art, equalizers, or playlists. It plays your music and that's it.
The support of only two audio formats is a current limitation, but the DriveTunes download page claims that the next version will support Ogg and FLAC files.
Google Slides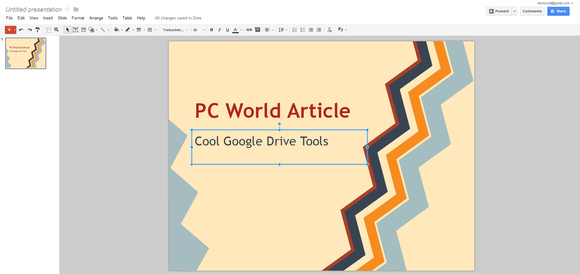 Google Slides saves presentations in real time, sparing you and your coworkers the tears and recriminations that result from saving over each other's work.
As long as there are businesses, there will be slideshows. But what if you have to develop a presentation with a colleague who's located elsewhere? That's where the collaborative power of Google Drive comes into play, and Google's own Chrome app Google Slides makes collaborating on presentations as simple as your collaborators will let it be.
As Google's download page puts it, Slides is good for "shiny 6-pagers or 600 page snoozefests." In other words, there's no restriction as to the size of the file (as long as you have the necessary amount of space on Google Drive). You can create slide presentations with a variety of themes and rich animations. You can leave comments on the file for your colleagues--which is much more productive than engaging in endless email threads and tedious telephone conferences.
Best of all: You never have to hit a save button. Google Slides automatically and instantly saves everything you do in real time. Beat that, PowerPoint.
IFTTT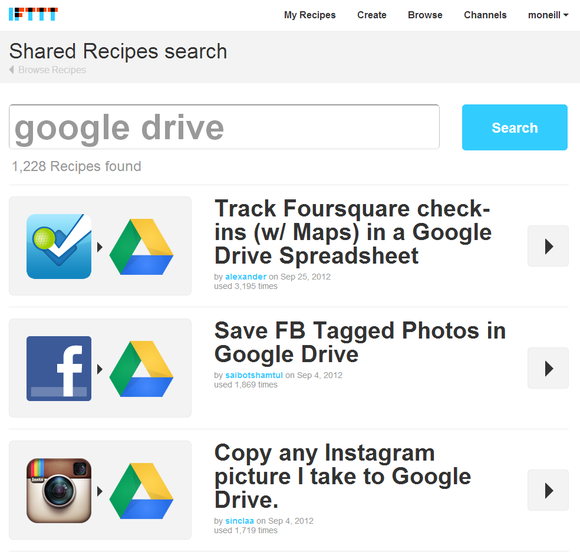 IFFTT automates Google Drive tasks so you don't even have to think about them.
Sending files and backups to cloud storage is a great idea, but it's a chore we all too often forget or avoid. The free Web service IFTTT (which stands for If This Then That) aims to make the job easier, by automating all of these tasks in the background, so you don't have to think about it and do it yourself.
The service takes a bit of setup, but once that's done, you can sit back and let it do its work.
IFTTT's Google Drive section is chock-full of automations (called recipes) made by other users. These recipes are freely available to copy and alter. If you can't find what you're looking for, and you can't tweak an existing recipe to suit your needs, then you can start your own recipe from scratch.
Suppose that you want every tweet you make to be stored in a CSV file in your Google account. First you fire up Twitter and give IFTTT permission to access your tweets. Then you tell IFTTT to send the tweet(s) to Google Drive (which will also have to give authorization to IFTTT).