Azure Stack offers hybrid cloud on your terms
Forget OpenStack and Cloud Foundry: Microsoft says its Azure Stack private and hybrid cloud platform is what enterprises are asking for.
For Azure Stack, you might want to take a similar approach and order the Azure Stack certified versions of the hyper-converged Cloud Platform Systems that hardware partners like HP and Dell offer, which will come already set up with Azure Stack. Currently they have versions for private cloud based on Windows Azure Pack, but Azure Stack hardware is sure to follow. Dell even lets you pay for a CPS in a flexible way that looks more like buying cloud services than buying hardware.
Another approach is to choose hardware certified through Microsoft's Fast Track program and build a DIY system. "We're not prescriptive about what processor you use, but we are prescriptive about how you lay out the servers and the software on the servers," notes Tewari. However, Microsoft doesn't expect most enterprises to want to do that level of system-building, except for creating a proof of concept – which you can do on as little as a single server (four servers will be the minimum for a production deployment, and that won't run all the Azure Stack services).
But even with a significant amount of the same code in Azure Stack running on standardized hardware, it's important to remember that running Azure Stack won't get you all of the features and advantages of public Azure.
For one thing, you have to buy all the hardware you'll need for peak loads, unless you can burst out to Azure for extra scale. And if you can do that with your existing workload, think about why you're running it on a private or hybrid cloud in the first place, because Microsoft can buy infrastructure and electricity more cheaply than you can, and they already have the skilled admins who know how to run a cloud. Automation based on what Microsoft has learned running Azure will vastly simplify deploying and maintaining Azure Stack, even down to replacement servers being automatically discovered and configured. But you will still have to operate it (especially if you want to add third party services).
For another, Azure will always have more services than Azure Stack, and it will get new services first. The Azure regions in the eastern and western U.S. have the same services; but Azure Stack is more like the federal government version of Azure or the forthcoming German Azure region that will be run through a German owner for legal protections or the version of Azure that's available in China – separate cloud services that get new Azure features on a different schedule than the public Azure service.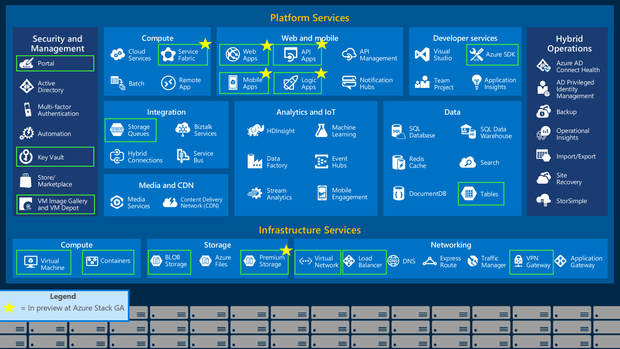 Microsoft The Azure services that will be in Azure Stack by the time it's generally available later in 2016. Click on image to enlarge.
Previous Page 1 2 3 4 5 Next Page