Azure Stack offers hybrid cloud on your terms
Forget OpenStack and Cloud Foundry: Microsoft says its Azure Stack private and hybrid cloud platform is what enterprises are asking for.
As a cloud platform, Azure Stack represents a different approach to the enterprise data center, and to enterprise apps from Windows Server. And many of the new features in Windows Server 2016 – like nested virtualization, containers and Nano Server – are meant to run both Azure and Azure Stack.
It used to be that you focused on building reliable, redundant, fault-tolerant, highly available infrastructure to make sure your application was always up and running. You can treat cloud as a way to get that infrastructure for traditional apps, with IaaS. Azure and Azure Stack have options like availability sets, templates and image galleries that simplify creating pre-configured VMs (including Ubuntu images from Canonical, not just Microsoft workloads) and extensions that inject management agents into VMs, which make virtualization more efficient.
But as we've learned how expensive it is to buy and manage that infrastructure, the cloud has given rise to an alternative approach: using cheap, commodity hardware managed by automation and building applications in ways that let us ignore infrastructure problems – because the workload can automatically move onto other hardware in the cloud. That means PaaS and microservices; and in the case of Azure and Azure Stack, tools like Azure Service Fabric and Resource Manager for building cloud-style applications, using Azure Blob and table storage.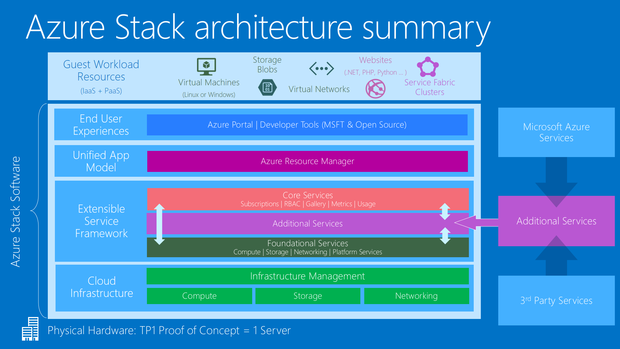 Microsoft The Azure Stack architecture. Click image to enlarge
The real value of the cloud comes from the combination of scale, automation and app development that takes advantage of that scale and automation, and that's what Microsoft is trying to bring to the enterprise with Azure Stack.
The topology and the configuration of both hardware and software is a huge part of what makes a cloud service efficient, points out Vijay Tewari of Microsoft's Enterprise Cloud team. Infrastructure management, storage, network and compute configuration; "all of these things are not trivial when it comes to designing a cloud. We're taking all the learning we have from running Azure and packaging it for our customers."
With traditional servers and applications you have a lot of options; that's the opposite of cloud standardization. "You end up with a situation where every deployment looks different; from a support standpoint, root cause analysis becomes difficult and performance tuning becomes a challenge," says Tewari. "With Azure, a tremendous amount of automation replicates the same topology – and that's what we bring to Azure Stack."
Azure but not all of Azure
When Microsoft builds an Azure data center, it deliberately reduces the choice of which servers and storage and network infrastructure it buys, both to get economies of scale by buying a huge amount of the same hardware, and to allow automation. Failing hardware will be automatically removed from service and workloads moved onto identical hardware that's identically configured through automation; replacing the hardware is simpler and again, it will automatically be configured by the automated management systems. The human pushing the cart of replacement parts will be a lone and occasional visitor to an Azure data center.
Previous Page 1 2 3 4 5 Next Page