10 of today's really cool network & IT research projects
Here's what top university and college researchers are cooking up for wireless, cloud, security and other tech innovations.
MAKING NOISE TO REMAIN UNDETECTABLE
Sometimes anonymous network technologies, such as Tor, aren't quite as anonymous as users might like to think they are. MIT researchers, however, say they have invented a supposedly untraceable text-messaging system that comes with statistical guarantees of secrecy and that also works pretty fast.
The researchers cheekily refer to their creation as Vuvuzela, after the loud plastic horns that became infamous during the 2010 FIFA World Cup in Safe Africa, in that it thwarts snoopers by creating noise on the network so that they can't detect what's being passed from one person to another. Vuvuzela source code is available here.
Network World's Tim Greene wrote in December that "The system uses encryption and a set of servers to conceal whether or not parties are participating in text-based conversations." It doesn't need to anonymize the actual participants in a conversation since "all the communications from clients to the servers are triple-wrapped in encryption," he writes.
THE TRUTH ABOUT EMAIL
Researchers have published a report that shows that email security goes a long way toward protecting passwords, financial data and more, but still isn't close to foolproof.
One big problem is that the security protocols bolted on to the original Internet architecture aren't universally implemented on servers, even though big players like Google have adopted such methods (Note: Google worked on this study with researchers from the University of Michigan and University of Illinois.). Even advanced encryption can be corrupted.
"Much of the measurement work done in my lab is focused on how we can incentivize an individual or an organization to make a right decision — to adopt these security protocols," says University of Illinois Coordinated Science Lab Associate Professor Michael Bailey, in a statement. "A lot of the interesting work in security goes beyond not only modeling the technology, but modeling the organizations that use that technology and how they choose to use it."
Bailey acknowledges: "I work under the assumption that any email I send without special care has an Internet-wide distribution list."
WIFI ROUTERS DO DOUBLE DUTY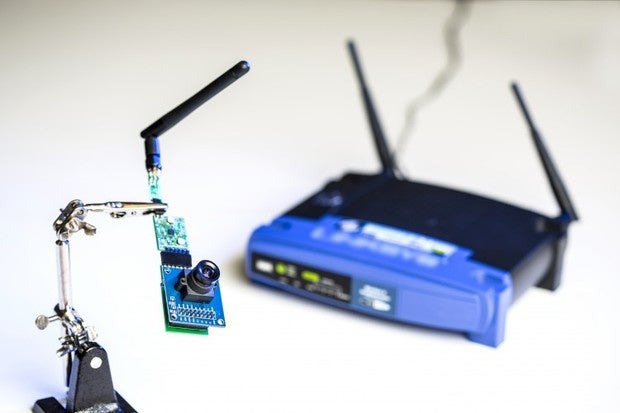 The UW team used ambient signals from this Wi-Fi router to power sensors in a low-resolution camera and other devices. Credit: Dennis Wise/ University of Washington
University of Washington researchers don't appreciate Wi-Fi routers slacking off: The devices have enough untapped energy that they can be used to power devices in addition to connecting them.
Their Power Over Wi-Fi system harvests energy from Wi-Fi signals to power Internet of Things devices such as temperature sensors, cameras and fitness trackers -- the kinds of things nobody wants to have to plug in to power up. Best of all, PoWiFi does this without messing with the quality of Wi-Fi communications.
Previous Page 1 2 3 4 5 Next Page